Samsung withdraws flagship Galaxy Note 7 over exploding battery risk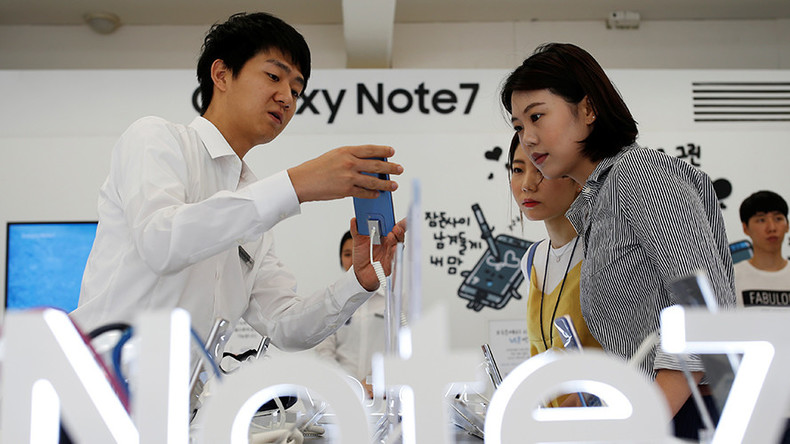 Tech giant Samsung is recalling millions of its flagship smartphone, the Galaxy Note 7, following dozens of known reports in the US and South Korea of the phone "exploding" and catching fire during or after charging.
Samsung said it has been difficult to understand which phones were affected among the 2.5 million Galaxy Note 7s sold to date, but added in a statement that "there have been 35 cases that have been reported globally."
The company has also promised customers who already have the device to voluntarily replace theirs with a new one over the coming weeks.
"There was a tiny problem in the manufacturing process, so it was very difficult to figure out," Koh Dong-jin, president of Samsung's mobile business, told reporters on Friday.
"It will cost us so much it makes my heart ache. Nevertheless, the reason we made this decision is because what is most important is customer safety," he said.
According to the Korean tech giant, the flagship smartphone has already been launched in 10 countries so far. The only country definitely not affected by the recall is China, where the devices use a specific kind of battery not exhibiting signs of explosive behavior.
Samsung has previously said that demand for the latest Galaxy Note edition was overwhelming, which created a supply shortage and forced the company to delay the launch of the phone in some markets.
The flagship Samsung device packs a sophisticated dual-curved Quad-HD Super AMOLED display. The latest device also features an in-built iris scanner, which allows users to log in with a quick glance of the eye.
Samsung says that the headline feature will allow users to log into applications and programs without entering a password or PIN number. It can be assigned to one or both eyes.
The recall comes at an unfortunate time for Samsung as its main rival Apple is expected to unveil a new iPhone model in about a week.