'Direct hit': Hurricane Matthew sends Florida into panic as 'massive destruction' expected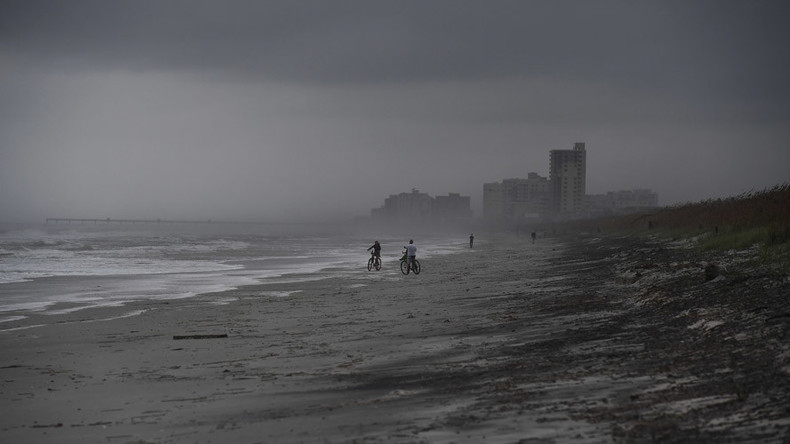 Hurricane Matthew is making its way towards the US, sending Floridians into a panic and rushing to finish last minute preparations before it strikes. Staple products have long been claimed by shoppers as officials warn of a "direct hit on Florida."
Matthew, a deadly Category 3 storm, is currently moving northeast through the Caribbean and is expected to make landfall on the Atlantic coast of Florida by Thursday evening or early morning on Friday.
The National Hurricane Center has issued an advisory at 11p.m. Wednesday, saying that Matthew was moving northwest near 10 mph (17 km/h) with maximum sustained winds reaching 115 mph (185 km/h).
"Strengthening is expected during the next 24-36 hours, and Matthew is forecast to be a category 4 hurricane as it approaches Florida," the NHC said.
The Central Florida coast is potentially at highest risk, with Flagler and Volusia counties bracing for a direct hit. Both hurricane and tropical storm warnings have been issued for Florida's coastline, stretching from Miami to the Volusia county line, which includes Fort Lauderdale, West Palm Beach, Cape Canaveral and Daytona Beach.
A mandatory evacuation has been in place in Florida since Wednesday, ordering residents living on the beach side, low-lying areas and RV and mobile-home park to seek safety and shelter.
"This is a dangerous storm and it is never too early to evacuate," Florida Governor Rick Scott said Wednesday, warning of "massive destruction that we haven't seen in years."
"You must leave before it's too late," he added. "We have to prepare and assume we will have a direct hit by this catastrophic hurricane."
President Obama had a similar message.
News of Matthew's landfall has stepped up awareness among residents all along Central Florida, with people rushing to stores.
Necessities such as water, bread and gas have been claimed by shoppers preparing for the worst. Shelves with batteries and flashlight have also been emptied.
In the Orlando area, where Matthew is not expected to strike as hard, worry has nevertheless spread just as severely.
South Carolina, North Carolina and Georgia are also expecting tropical storm and hurricane conditions to arrive by Friday morning and lasting through Saturday afternoon. States of emergency have been issued for counties in all three states.
South Carolina Gov. Nikki Haley has issued evacuation orders for the coastal counties of Charleston and Beaufort, which affected over 200,000 residents.
Hurricane Matthew has swept over Cuba and Haiti, killing at least 39 people, Reuters reported.
READ MORE: Hurricane Matthew hits Cuba hours after slamming Haiti (PHOTOS, VIDEOS)

Matthew flattened homes and left a trail of destruction in the Dominican Republic, where four people have died.