Hurricane Matthew hits Cuba hours after slamming Haiti (PHOTOS, VIDEOS)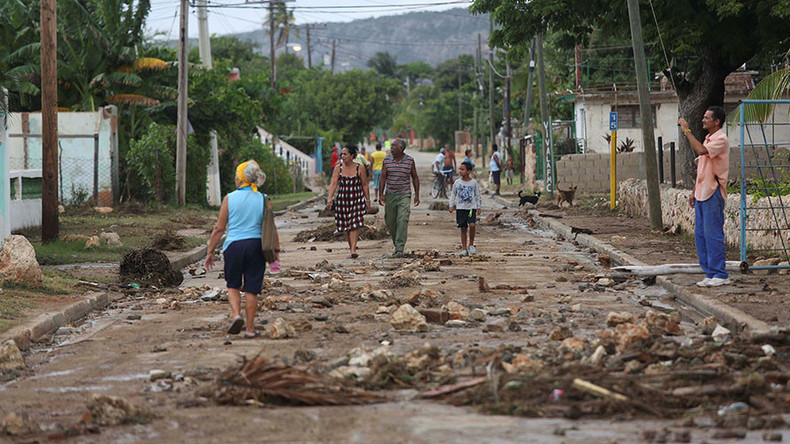 Hurricane Matthew has reached Cuba just hours after flattening homes and leaving a trail of destruction in Haiti. The eye of the storm slammed the country with sustained winds of around 140 mph (225kph).
The Category 4 hurricane – the most powerful Atlantic tropical storm in almost a decade – reached Cuba's eastern tip around 8 pm local time Tuesday night.
Three hours later, it was churning around 20 miles (32km) northwest of where it made landfall, moving north at about eight miles per hour (13kph), according to the National Hurricane Center.
Footage posted on Twitter ahead of landfall showed fierce waves in the city of Baracoa.
Another video from Baracoa showed a roof coming off a building.
Residents of the city of Guantanamo were seen emptying the streets and moving to shelters or inside their homes.
Ahead of the storm's approach, the US evacuated 700 military spouses and children from the notorious Guantanamo Bay Naval Base. Sixty-five pets of service personnel were also evacuated, according to Reuters, but the prisoners being incarcerated at the prison were not. The base lost power shortly before noon on Tuesday.
Military personnel were evacuated to a gymnasium on base, which is serving as a makeshift shelter.
Many pets are also being housed in the shelter.
Hurricane Matthew is hitting the country almost 53 years to the day since Hurricane Flora killed 2,000 Cubans on October 3, 1953.
The storm's touchdown in Cuba came just hours after the hurricane had pounded the impoverished nation of Haiti, where tens of thousands of people are still living in tents and makeshift shelters following a 2010 earthquake.
The full extent of damage in Haiti has not yet been assessed. Several people were reportedly swept away when a bridge collapsed in the capital Port-au-Prince. However, the country's civil protection agency has reported just two casualties so far, one of whom was a fisherman who drowned.
Six other deaths have also been blamed on the hurricane – one in Colombia, four in the Dominican Republic, and one in St. Vincent and the Grenadines.
The storm is expected to hit the Bahamas sometime on Wednesday night before moving towards Florida and the Atlantic coast of the US. Florida Governor Rick Scott declared a state of emergency for the state on Monday, putting the National Guard on standby. South Carolina's governor has ordered the evacuation of more than one million people from Wednesday afternoon.