Loud fireball lights up the East Coast sky (PHOTOS, VIDEO)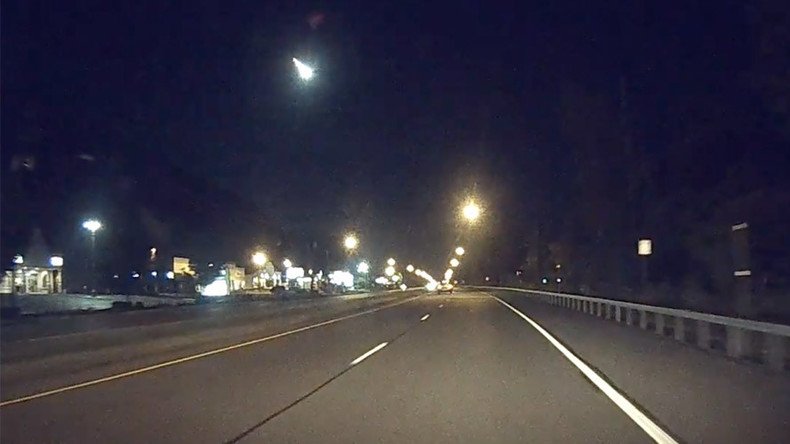 People from Maryland to Québec may have seen an unusually large and loud fireball in the sky. The American Meteor Society received 510 reports of a fireball with a sonic boom. The fireball was likely an asteroid.
Tuesday night's fireball sightings could be one of the American Meteor Society's (AMS) top 10 events in terms of received reports, according to the Washington Post. There were a few unique factors behind the fireball that led to the large numbers of reports.
To start, it was generally seen by more people because it happened around 22:30 EST. In addition, reports came from Ontario, Québec, New York, Pennsylvania, New Jersey, Delaware, Michigan, Maryland, DC and Virginia.
"What struck me is that people from Canada to Southern Maryland saw it," Mike Hankey, operations manager for the American Meteor Society, told the Post. "That means it was pretty bright."
In addition, the fireball was different than many because of the sonic boom witnesses reported hearing. The experience was so intense that Toronto police and fire services received calls about a "plane crashing into the Toronto Harbor" the AMS reported.
Sonic booms are typically heard within a 50-mile radius of the sighting, but some reports came from Pennsylvania. This means that the fireball must have penetrated the Earth's atmosphere deep enough to create a sonic boom. "To have that echoing sound means it has to get pretty close to the surface," Hankey explained.
The jury is still out on what the fireball actually was, but Hankey believes it is likely an asteroid or piece of a comet. Given how deep the fireball was traveling, if it was an asteroid then it could have disintegrated into small meteorites that may have fallen to Earth.
You can share this story on social media: