Black box failure frustrates Hoboken train crash probe
Published time: 3 Oct, 2016 20:45
Edited time: 4 Oct, 2016 13:52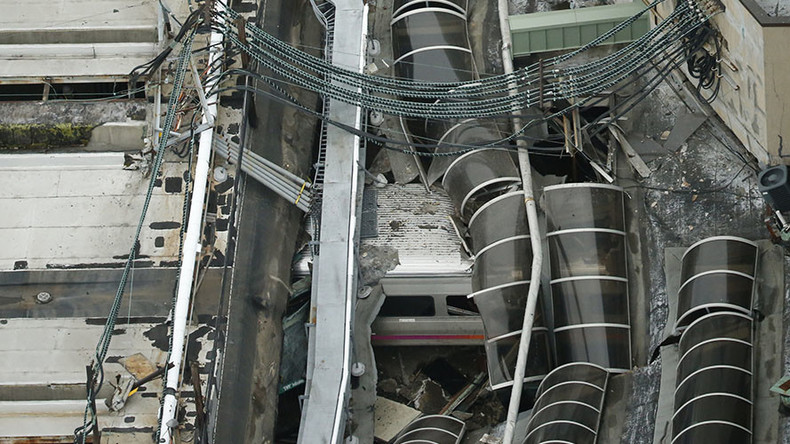 The federal probe into last week's fatal crash of a New Jersey commuter train that killed one person and injured over 100 has turned up no leads, as the train's 20-year-old data recorder did not work and the conductor said he lost memory of the event.
New Jersey Transit's 1614 train on the Pascack Valley Line slammed into the Hoboken terminal on Thursday morning during rush hour, knocking over several support columns and causing the roof to cave in. Fabiola Bittar de Kroon, 34, was struck by the debris and died. More than 100 people, both on board the train and inside the station, suffered injuries.
Investigators with the National Transportation Safety Board were unable to get any information from the engine's data recorder, or black box, which was over 20 years old.
"Unfortunately, the event recorder was not functioning during this trip," NTSB Vice Chairman Bella Dinh-Zarr told reporters at a press conference Sunday.
Investigators are trying to retrieve the data recorder from the front car of the train, which is buried under the wreckage of the terminal building.
The train's engineer, identified as 48-year-old Thomas Gallagher, said he had no memory of the crash itself. The first thing he recalled was waking up on the floor of the cab after the crash, he told the NTSB. According to Gallagher, he got to work at 6:46 that morning, felt "well rested" and had his cell phone turned off and stored in his backpack. He also said the train was traveling at 10 miles per hour when it entered the station, and that he was unaware of any mechanical problems with it.
Multiple witnesses, however, said the train did not slow down as it plowed through the station.
"It just never stopped," passenger Nancy Bido told WNBC-TV in New York following the crash. "It was going really fast and the terminal was basically the brake for the train."
Signals on the tracks leading to the Hoboken Terminal seemed to be working normally, and a walking inspection of the area found nothing that could have caused the train to malfunction, NTSB said. The bureau also used a drone to document the site, for the first time in a rail accident investigation.
Security videos, 3-D models and photos have provided no substantial insight into the crash, according to Dinh-Zarr.
"We'll just hope that the front event data recorder was working," she said.