Sanders 'bothered' by criticism of supporters, still urges 'basement dwellers' to vote Clinton
Bernie Sanders has admitted that a leaked tape in which Hillary Clinton criticized his supporters as "basement dwellers" and "baristas" bothers him, but still insists his backers should vote for the Democratic candidate over Donald Trump.
When asked by CNN's 'State of the Union' program whether Clinton's leaked comments from a February fundraiser bother him, Sanders said, "of course it does, but we are in the middle of a campaign...if you go to some of the statements I made about Hillary Clinton, we have real differences."
The 49-minute tape was purportedly found in a hacked email of a Clinton campaign staffer and given to the Washington Free Beacon, which published the story last week.
Read more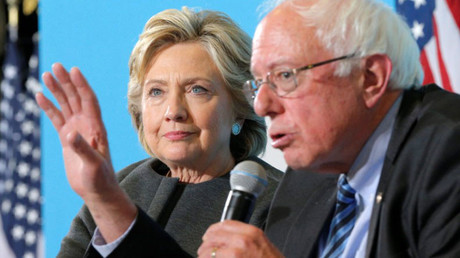 In the audio, Clinton described Sanders' supporters as youngsters "living in their parents' basement."
"They feel they got their education and the jobs that are available to them are not at all what they envisioned for themselves. And they don't see much of a future," Clinton said.
"If you're feeling like you're consigned to, you know, being a barista, or you know, some other job that doesn't pay a lot, and doesn't have some other ladder of opportunity attached to it, then the idea that maybe, just maybe, you could be part of a political revolution is pretty appealing," she continued.
But although Sanders said the comments bothered him, he did admit that Clinton was correct in at least some of her assessments.
"They are living in their parents' basement, and that's the point," he said, stating that many young people have been denied economic opportunities as a result of the Great Recession.
"If you listen to the whole discussion that she had, a very important point that she made is that a lot of young people who went into debt, worked very hard to get a good education, can't find a job commensurate to the education that they received," Sanders said.
He went on to state that Clinton is still the best choice for president, but encouraged voters to do their own research.
"...Look at Clinton's positions, look at Trump's positions, understand that one or the other of those two will be the next president of the United States. And after you take a hard look at those two candidates and their issues, I think the conclusion that the vast majority of people will reach is that Clinton is far and away the superior candidate," he said.
Living in the basement: 'Clinton disconnected from youth issue of joblessness' (OP-EDGE)
Speaking of the third-party candidates running in the election, Sanders told ABC News: "If anyone plans to vote for Libertarian Gary Johnson or the Green Party's Jill Stein because of what they see as Clinton's shortcomings...it is a vote for Donald Trump."
Meanwhile, the Clinton campaign has defended the statements in the leaked audio, insisting that it shows the Democratic nominee is "listening to the concerns" of the "most diverse, open-minded generation in history."