US fracking giant subpoenaed by DOJ over land purchase, royalty payments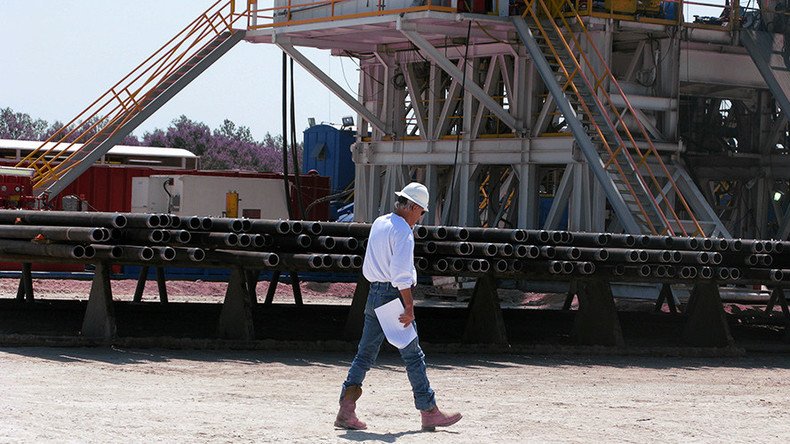 America's second largest natural gas producer is under investigation by the US Department of Justice (DOJ) regarding its purchase and lease of oil and gas-rich areas in a number of states for exploitation.
Chesapeake Energy Corporation, which carries out methane gas fracking, has been ordered to provide information on its accounts, royalty payments to owners of land where it drills, and its "classification of oil and gas properties."
The company confirmed in a filing to the US Securities and Exchange Commission on Thursday that it received subpoenas from the Department of Justice regarding possible violations of antitrust laws.
"We also have received DOJ, US Postal Service and state subpoenas seeking information on our royalty payment practices," the filing stated.
The company was previously embroiled in a fraud and racketeering controversy over landowner leases in Michigan.
A $25 million settlement was agreed with the Michigan Attorney General last year, after the energy producer was accused of colluding with a rival firm to suppress land prices, reports Reuters.
Following the case, spokesperson for Chesapeake said the company was pleased to settle the "legacy issues inherited from past management."
In March, the co-founder of the energy company, Aubrey McClendon, died in a single-car collision, just one day after he was charged with "conspiring to rig bids for the purchase of oil and natural gas leases" in Oklahoma.
READ MORE: Police finds nothing to suggest US oil tycoon committed suicide

The DOJ alleged McClendon was an orchestrator of the collusion to keep prices down for Chesapeake and a competitor between December 2007 and March 2012.
A statement by prosecutors at the time claimed: "McClendon instructed his subordinates to execute the conspiratorial agreement, which included, among other things, withdrawing bids for certain leases and agreeing on the allocation of interests in the leases between the conspiring companies."
The second company named in the debacle, Encana Corp, agreed to pay compensation of $5 million and pleaded no contest to the charges in a bid to end the matter, the Calgary Herald reported in 2014.
The fall of energy prices has hit Chesapeake Energy's finances, with Thursday's filing revealing details of a $1.1 billion debt offering.
You can share this story on social media: