Clinton failed to complete security training on handling top-secret information – report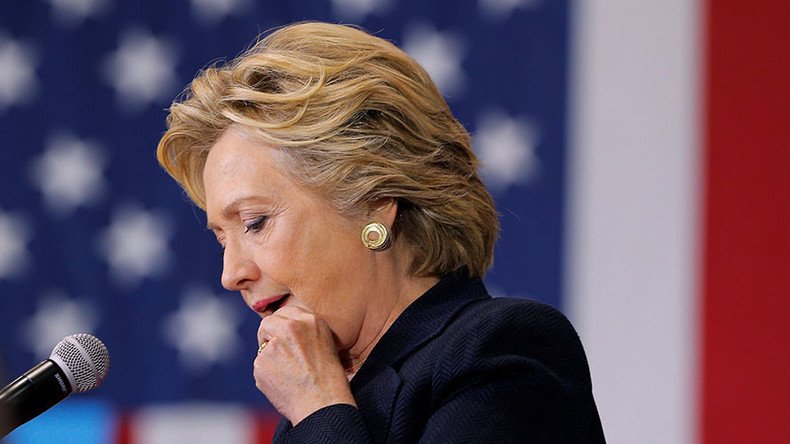 Hillary Clinton allegedly failed to complete top-level security training for handling the State Department's sensitive information upon beginning her tenure, newly released documents suggest.
The State Department released "in parts" 46 pages of internal papers, complying with yet another court order, this time stemming from a Freedom of Information Act request from the Daily Caller News Foundation (TheDCNF). It demanded the Obama administration present proof that the former Secretary of State, accused of mishandling top-secret information, and her senior staff underwent mandatory security training.
The first batch of documents, which the Daily Caller received late on Tuesday, indeed contained copies of papers, signed by Clinton's chief of staff Cheryl Mills and deputy chief Huma Abedin, showing that they both completed the course officially know as "Special Compartmented Information," or SCI.
According to the papers, Mills signed her SCI ID agreement on January, 29, 2009, acknowledging obligations required by the sensitivity of her position in the department and her access to classified information. Clinton's right-hand aide Abedin had her agreement signed the next day. It was also signed by Clinton's adviser Jacob Sullivan.
However, the document which TheDCNF was presumably most interested in, was missing from the department's release.
The 46 pages made no mention of Clinton herself signing onto her SCI responsibilities, leading to assumptions that she never completed the top-level security training.
"It's hard to believe, particularly as it was her first year in office as Secretary of State," retired Col. Jim Waurishuk told TheDCNF.
While on duty, Waurishuk oversaw security protocols as deputy director for intelligence at the US Central Command and served on the White House National Security Council staff.
"The standard process is you will get all your security indoctrination done immediately upon taking office," he said. "I don't care if you're a GS-1 or a private or a four-star general or President of the United States. You're going to go through your security indoctrination, particularly in the position of Secretary of State."
TheDCNF's attorney, who helped the outlet in its FOIA request battle with the State Department, said that "time will tell whether they – and particularly Secretary Clinton – ever received renewed awareness training after 2009 just like rank and file employees are mandated to do."
Technically, the department has until October 10 to release the documents. US District Court Judge Richard Leon ordered it to release over 400 documents "on [a] rolling basis" starting September 26. So, the recently-released papers should be approximately one-third of the documents the State Department must release.
The second batch should be made available on October 3.
On Tuesday, the State Department also released a presentation for its employees, which describes severe constraints surrounding SCI in detail.
READ MORE: Clinton bought old BlackBerrys on eBay – top Republican congressman
Access to the SCI entails a number of responsibilities as well as restrictions, such as a ban on using laptops and cellphones, including Blackberries, inside a Sensitive Compartmented Information Facility (SCIF) and secured working areas (SWA) meant for reading, discussing or processing the sensitive information. It also prohibits discussing classified information outside.
You can share this story on social media: