'Suspicious package' forces evacuation of Charlotte police HQ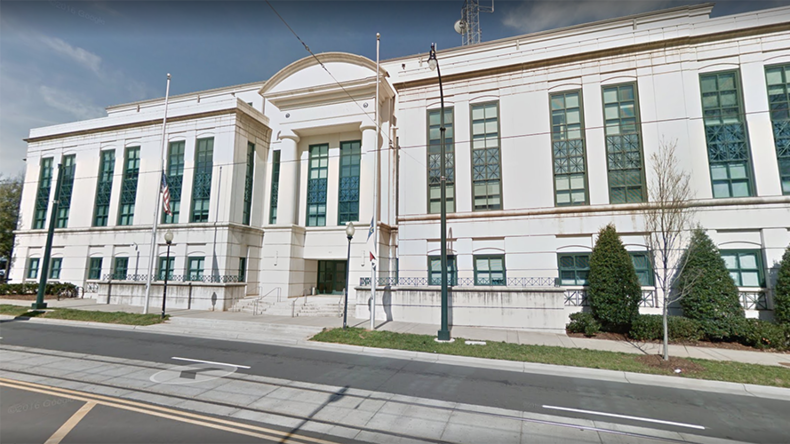 Police headquarters in Charlotte-Mecklenburg, North Carolina, have been evacuated due to a possible bomb threat. A bomb squad has been requested at the scene as authorities investigate a suspicious package.
Capt. Mike Campagna held a press conference where he explained that an employee working in the mailroom came across the suspicious package and alerted her supervisors. A canine bomb dog alerted its authorities that the package needed further investigation. It has since been removed from the police department and taken to a secure location where it can be assessed. Everyone was reported to be safe following the evacuation.
Campagna told reporters that this was the first time he knew of that the department has been evacuated due to a threat.
READ MORE: Charlotte mayor lifts citywide curfew, protests turn into boycott of NFL game (PHOTOS, VIDEOS)
A bomb squad, as well as the Charlotte Fire Department are both presently working at the scene.
A 911 call center has also been evacuated, traffic anchor for Good Day Charlotte on FOX46, Chuck Roads, reported via Twitter. The streets around the police headquarters have reportedly been cordoned off.
Several blocks of uptown Charlotte have been shut down as a result of the bomb threat.
DETAILS TO FOLLOW
911 calls which are usually answered at CMPD headquarters are being re-routed to a backup center.
Charlotte-Mecklenburg police headquarters on East Trade Street in uptown Charlotte was evacuated shortly after 4:30pm after a suspicious package was discovered in the mailroom, local Channel 9 news reports. Bomb robots and sniffer dogs are reportedly at the scene
The bomb threat did little to deter protesters, who continued their demonstration nearby.
Tensions between the Charlotte-Mecklenburg Police Department and the public have been on the rise, with a week of protests having taken place over the high-profile shooting of Keith Lamont Scott. While the demonstrations were largely peaceful, skirmishes between police and protesters broke out and some officers were injured. Additionally, one protester was killed at Wednesday's demonstration and another attendee was arrested in relation to his death.