Charlotte mayor lifts citywide curfew, protests turn into boycott of NFL game (PHOTOS, VIDEOS)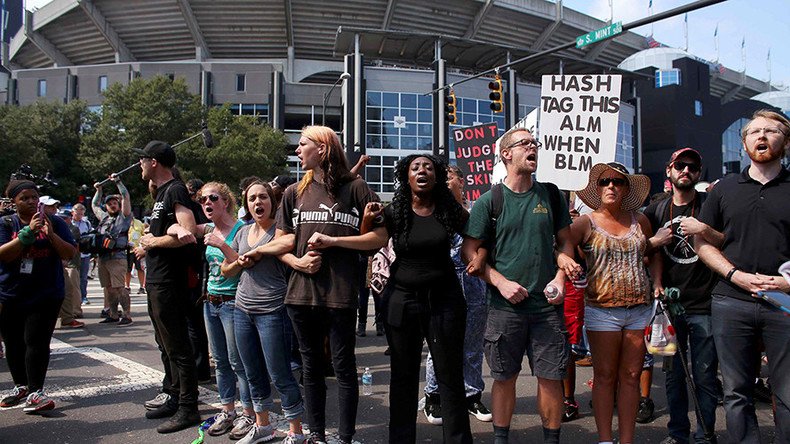 As Charlotte protests turned peaceful over the weekend, the mayor responded by lifting the curfew. But demonstrators were still out in full force, protesting outside an NFL game, which prompted the deployment of additional officers.
The weekend passed without violence or clashes with police, with demonstrators protesting against the death of Keith Lamont Scott peacefully. The scene was a far cry from last week's protests, which led to Governor Pat McCrory declaring a state of emergency and calling in the National Guard.
Still, there was no shortage of protesters. On Saturday, hundreds of people gathered at Charlotte-Mecklenburg Police Department headquarters. The peacefully dispersed at around 12:15am, some 15 minutes after the nightly curfew began, the Charlotte Observer reported.
Demonstrators also gathered in front of the Omni Hotel, where a protester was fatally shot on Wednesday night. Some tried to enter Interstate 277, but were stopped by police.
On Sunday, hundreds of people gathered outside Bank of America stadium to boycott and protest outside an NFL game between the Carolina Panthers and the Minnesota Vikings.
READ MORE: 'We're all human': Charlotte activist hugs riot police (VIDEO)
Protesters said the boycott of the game was aimed at showing people that there are more pressing issues taking place in Charlotte.
"We all want justice, we all want the truth, and as of right now, we're not getting that," protester and Panthers season ticket holder Tonya Ford told NBC News, adding that she would not be attending the game.
"I couldn't come out here and put on my blue Carolina Panthers T-shirts and things without having got everything we've requested," she said.
Demonstrators took a knee as the Star-Spangled Banner played, while police in riot gear looked on. It comes after Colin Kaepernick and other NFL players created a furor across the US for doing the same, in a move they say is aimed at bringing awareness to police shootings of black people.
Charlotte police declared the game an "extraordinary event," allowing for tighter security and bag searches. Extra officers were deployed to the stadium, and received applause from fans waiting to enter the game.
Inside the stadium, Panthers quarterback Cam Newton made his own statement, wearing a black shirt which read "Injustice anywhere is a threat to justice everywhere" – a quote by Martin Luther King Jr.
Newton previously called Scott's shooting death "embarrassing," saying it touched on a "state of oppression in our community," AP reported.
Demonstrators also marched the streets of Charlotte on Sunday, carrying signs and chanting as police looked on.
Following the peaceful protests, Charlotte Mayor Jennifer Roberts lifted the citywide curfew on Sunday evening.
She released a joint statement alongside the chairman of the Mecklenburg Board of County Commissioners, Trevor M. Fuller, urging the community to continue to "show their unity in a peaceful and legal manner."
The weekend protests come despite police releasing footage on Saturday of the moment Scott was shot by a Charlotte police officer.
READ MORE: Charlotte protesters march on highway in 4th night of demonstrations
Although Scott's brother-in-law Ray Dotch said the family was "delighted" the videos were released, he said during a Saturday press conference that "unfortunately we are left with far more questions than we have answers."
"It does not make sense to us how this incident resulted in the loss of life...and it's not clear in the videos that were released," Dotch said.
Both dashcam footage and an officer's body camera footage were released on Saturday, but neither video is clear enough to tell whether Scott was holding a gun at the time of the shooting. Police can, however, be heard shouting "Drop the gun!"
You can share this story on social media: