'This could be Russia, this could be a 400lb guy' – Trump & Hillary react to DNC hack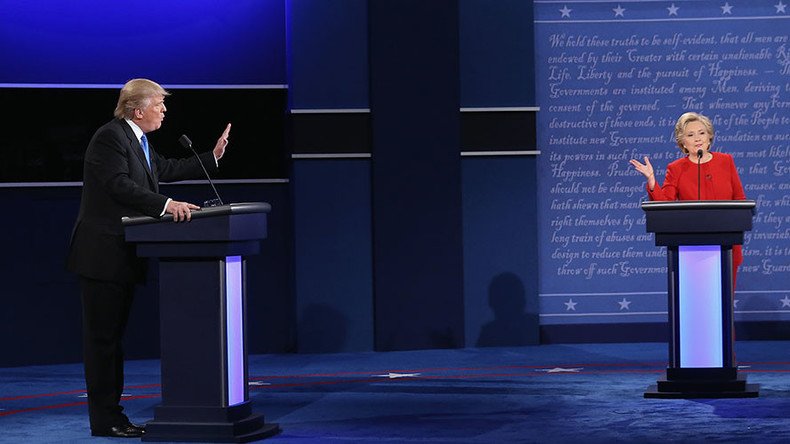 As Hillary Clinton has warned about cyber-threats from Russia, providing no proof but her assurances, Donald Trump has shifted the attention to the core of the revelations – scheming against Bernie Sanders.
Responding to a question in Monday's presidential debate on cybersecurity, Hillary Clinton dedicated most of her two minutes to Russia, which she accused of using cyberattacks against US organizations.
"There's no doubt now that Russia has used cyberattacks against all kinds of organizations in our country," Clinton said, presumably referring to the recent leak of sensitive Democratic National Committee emails.
READ MORE: US media opens anti-Russia witch hunt to cover-up (real) DNC scandal
In the US, Russia was the main suspect in the information dump from day one, without any proof being ever produced.
"We have recently have learned that this is their one of their preferred methods," Clinton said of Russia, accusing personally Vladimir Putin of letting "loose" cyber-attackers.
"[Vladimir Putin has] let loose cyber attackers to hack in to Government files, to hack into personal files, hack into the Democratic National Committee," she said.
READ MORE: 'Why is Clinton using Russia as punching bag for her electoral contest?'
The Democratic candidate then moved to threats.
"The United States has much greater capacity and we are not going to sit idly by," she said. "We will defend the citizens of this country and the Russians need to understand that.
Clinton also accused her Republican rival of inviting "Putin to hack into the Americans," accusations to which Trump whispered into his microphone: "Wrong."
READ MORE: Clinton aide blames Russia for hacking DNC to 'distract Americans from its use of rigged game'
The statement is, in fact, an exaggeration. Speaking in the afterward of the DNC hack in July, Donald Trump said: "Russia, if you're listening, I hope you're able to find the 30,000 emails that are missing."
While both candidates have gone toe-to-toe on cybersecurity, Trump seemed to be not convinced on Russia's role.
"I don't think anybody knows it was Russia that broke into the DNC," Trump said. "She keeps saying 'Russia, Russia, Russia,' and maybe it was. It could be Russia but it could be China, could also be lots of other people. It could be someone sitting on their bed that weighs 400 pounds," he added.
To Trump it seems to be more important not who hacked the DNC, but what the world learned from the leaked emails.
"We learned that Bernie Sanders was taken advantage of by your people, by Debbie Wasserman Schultz," Trump said, certainly not missing an opportunity to highlight one of the major findings. "Whether that was Russia, whether that was China, we don't know."
From the other side of the screen, Twitter-verse got busy fact-checking Trump's suggestion of the "400 pound" hacker.
I know many hackers weighing less than 150 pounds let alone 400 pounds.

— Greg Bettinelli (@gregbettinelli) September 27, 2016
can't wait to see the inevitable headline "400 Pound Hacker Reveals Donald Trump's Tax Returns" #debatenight

— Cristina Montemayor (@crismontyy) September 27, 2016
However, some accused Trump of fat-shaming.
Trump just lost the 400 pound hacker vote. Just a matter of time before the fat shaming started.

— CSTB (@cstbtweet) September 27, 2016
glad Trump could get in that totally necessary fat-shaming response about an imaginary person

— Hannah Cranston (@HannahCranston) September 27, 2016
You can share this story on social media: