Clinton aide blames Russia for hacking DNC to 'distract Americans from its use of rigged game'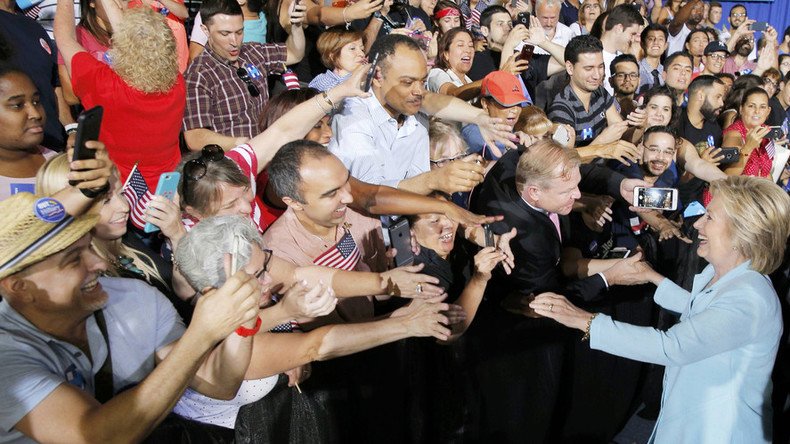 It was predicted months ago that the DNC would find some way to squash Bernie Sanders' revolution and assuage his supporters into voting for Clinton, says Arvin Vohra, vice chair of the Libertarian National Committee.
As the US Democratic party convention in Philadelphia opened on Monday to formally choose a presidential candidate, WikiLeaks released nearly 20,000 e-mails from the party's governing group which reveal the National Committee's been busy mudslinging at opponents and even its own members.
Following the scandal, hundreds of protesters marched through the streets of Philadelphia. They're hoping presumptive nominee Hillary Clinton will not be proclaimed the Democratic Party's presidential candidate. Lots of them expressed their support for a previous runner, Bernie Sanders. But Sanders himself has already endorsed Clinton.
The WikiLeaks revelations have led to the chairperson of the Democratic Party, Debbie Wasserman Schultz saying she'll quit after the convention. Although Clinton's campaign manager Robby Mook said he believes Russia should be blamed for the scandal.
RT: What is your opinion about the recent scandal? How could it influence Clinton's presidential campaign?
Arvin Vohra: I think it is very clear that a lot of the delegates and the Democrats who were originally supporting Bernie Sanders are now going to be very skeptical of joining Clinton's team. They are going to look around for a various options and see who they can really support, someone who they really can trust and whose positions they can really value… I think some of the latest scandals are really going to make them question very strongly whether they can really support someone like Clinton, given some of the information that has been going out.
The party leadership must always remain impartial in the presidential nominating process, something which did not occur in the 2016 race.

— Bernie Sanders (@BernieSanders) July 24, 2016
RT: Clinton's campaign manager said Russian government hackers accessed DNC emails for WikiLeaks to help Trump secure his party's nomination. If this is true, why do you think it is happening?
AV: So many people including the Libertarian party chair Nicholas Sarwark predicted months ago that the DNC was going to find some kind of a way to squash the Sanders' revolution, and force and try to trick Sanders' supporters into voting for Clinton. It could be that some of the activists who did it might be based in Russia, I have no idea but this is something that everyone has known was coming for a long time. I think pointing the finger to Russians is just a way to distract people from the central issue which is that the DNC was using a rigged game to prevent the popular guy from actually getting the nomination.
READ MORE: DNC chair Schultz resigns following WikiLeaks revelations
RT: Why do you think Clinton's campaign manager accused Russia of the leak? Could he be trying to divert attention from what's inside the emails?
AV: One of the things that we are seeing with some of these things is that people are trying to distract the American voters from what the American voters actually want. The American voters want to see less government; that is the big thing. And neither Trump, nor Clinton is offering that. So, no matter how much mudslinging they do, no matter how many scandals they dig up it is not going to change that basic fact. This particular scandal is particularly telling. Because it justifies exactly what people have been predicting for the last month that the DNC was going to find some kind of a way to prevent the popular guy from getting the nomination…
The statements, views and opinions expressed in this column are solely those of the author and do not necessarily represent those of RT.
You can share this story on social media: