'I literally hear the gunshots pass my face': 9 injured amid barrage of gunshots in Houston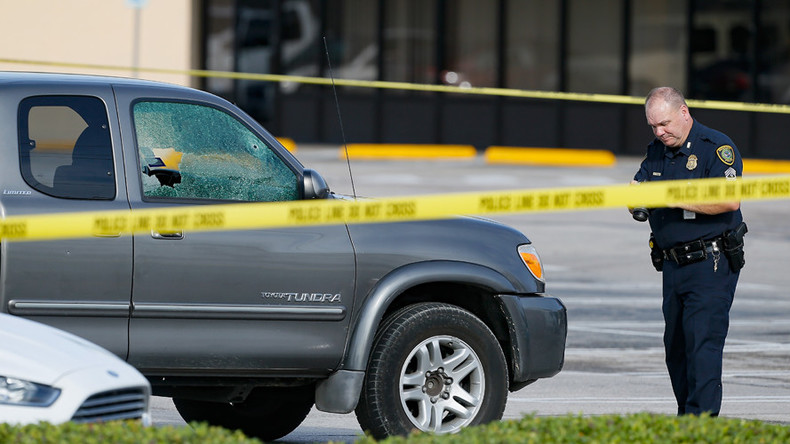 A man opened fire on commuters near a strip mall in southwest Houston, Texas, early Monday morning, wounding nine people before being shot and killed by police. A bomb squad is searching what is believed to be the suspect's car.
Eyewitnesses, many of whom were traveling along Weslayen Street in the West University Place neighborhood, said a gunman carrying a revolver opened fire, shooting dozens of bullets beginning around 6:20am local time.
The Houston Police Department (HPD) confirmed "an active shooter situation in a shopping center near the corner of Weslayan and Bissonnet in southwest Houston," and that police killed the suspect while he exchanged gunfire with officers. HPD said it considers the scene "still active" but contained. A bomb squad is checking a Porsche believed to have belonged to the suspect near The Oaks condominiums on Law Street.
The HPD said nine people were injured amid the gunshots, one of whom is in critical condition. The FBI said its agents are on the scene.
The HPD said the suspect is "reportedly a lawyer," and that the car police searched "had additional weapons inside."
HPD Interim Chief Martha Montalvo told reporters that the gunman was having problems at the firm for which he worked and that police were searching the shooter's social media. Montalvo would not identify the suspect. The HPD said it will also search the suspect's home.
The Porsche is registered to attorney Nathan Desai, according to KPRC's Aaron Wische.
Witness Antoine Wilson, who told KTRK that he was traveling near the scene at the time of the shots, said: "I literally hear the gunshots pass my face" as he was attempting to understand what was occurring.
"It was a whole bunch of shooting, and I had [rolled] my window down to see what was going on … and didn't realize that I was right there by the shooter," Wilson said, adding he did not see the gunman.
"The first shots came into my friend windows. My front window was shot through four times, my side window was shot," another eyewitness told KTRK. "We don't know where the shooter was. I don't know if he was on foot or where he was."
Many commuters had vehicles with bullet holes and busted windows, according to local reports.
The wife of a shooting victim relayed to KTRK the harrowing story of her husband being shot at the scene.
"All I know is that he was screaming on the phone, 'I'm hit, Jen, I'm hit,'" she said. "I go into hysterics, I call my best friend and her husband is a sergeant for HPD. And basically they told me, 'Get down, it's a hot zone right now. There are cops everywhere on the ground'."
Houston Mayor Sylvester Turner said officials believe the shooter was acting alone.
"The motivation appears to be a lawyer whose relationship with his law firm went bad," Turner told reporters.
Governor Greg Abbott tweeted a message of sympathy for the victims of Monday's shooting.