SpaceX test-fires Raptor, next-gen engine that will take us to Mars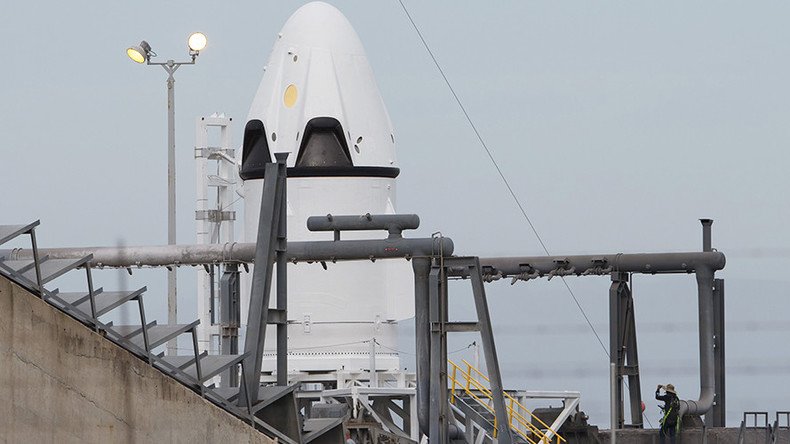 With an eye to establishing a human colony on Mars, Elon Musk's SpaceX has tested the Raptor interplanetary transport engine – the methane-fueled beast that will lie at the heart of the upcoming gigantic reusable Red Dragon rocket.
The news was reported by Musk over Twitter, and comes as the world waits with bated breath what the visionary will say about his plans to colonize the Red Planet and establish a human city there within a decade.
The long-awaited speech will come Tuesday, but for now we get a peek at the next-generation engine, developed at a facility in Texas and waiting for the Red Dragon, which should get its own test within a couple of years.
READ MORE: SpaceX to carry humans to Mars by 2024, says Elon Musk (VIDEO)
The new engine could provide up to three times more juice than the current Merlin engines SpaceX uses on its Falcon 9 and upcoming Falcon Heavy rockets. According to Musk, it is expected to provide a thrust of around 500,000lb (227,000kg), which puts it in the space shuttle-engine category.
Musk's plan, however, is to use nine Raptor engines on his future Mars Colonial Transporter, giving the craft way more power than the current three main engines and two booster rockets setup used on the current shuttle.
READ MORE: Watch as massive fireball engulfs SpaceX's Falcon 9 rocket (VIDEOS)

The company is looking to getting an unmanned vehicle on Mars by 2018, and gives a very optimistic timeframe for a human landing by 2024.
Musk's long-awaited Tuesday speech – 'Making Humans a Multi-planetary Species' – is expected to unveil more details about the Mars conquest and the technical details – maybe even a budget, as SpaceX still hasn't quantified the cost, aside from using the phrase "a lot of money."
You can share this story on social media: