9 people injured, 44 arrested in Charlotte night riots - police chief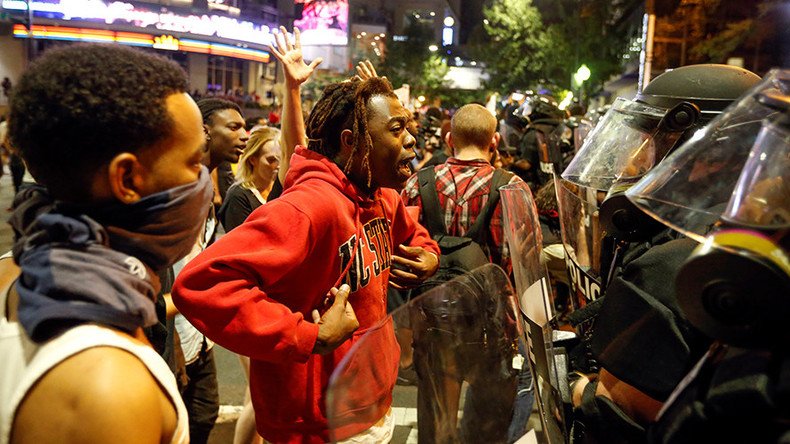 The second night of violent protests in Charlotte resulted in 9 people injured and 44 arrested, according to the city's police chief. He refused to make public the tape of the fatal police shooting of a black man that led to protests.
The 44 arrestees are charged with failure to disperse, assault and breaking and entry, Chief Kerr Putney said during a press conference on Thursday morning.
Chief Putney said police had used gas when the peaceful protest turned into a riot on Wednesday night but made no mention over the use of rubber bullets. Posts on social media from witness said police had fired rubber bullets into the crowd as they exited the Omni Hotel. A man was hit in the head and lost a lot of blood. Police said he was in critical condition and the incident was the result of "civilian on civilian" assault. By Thursday afternoon, WCNC reported the man had died.
The protests were sparked by the fatal police shooting of Keith Lamont Scott in the North Carolina city on Tuesday. There are conflicting reports of whether he had a gun or a book in his hands. The killing has provoked two nights of riots in the city.
Putney said that the protests started at 6 pm local time as a peaceful demonstration, but later a group moved to Trade Street and another group moved to Interstate 277, shutting down the loop. Protesters started damage property and at about 10:30 pm, Charlotte authorities declared a state of emergency.
Putney also said that video of the shooting will not be released, but it will be shown to the family first. When challenged over his pledge for transparency in handling the case, he told the reporter: "I appreciate your passion, but I never said full transparency."
Chief Putney said that the video does not definitely show Keith Lamont Scott pointing a gun at anyone.
He said he is working to honor the request of the family of Scott to view the video. It's unclear when or if the video will be released publicly.
The video could be key to resolving the split with police, who say Scott refused repeated commands to drop his gun, and residents who he say he was unarmed.
People in Charlotte have been protesting since Tuesday night after a plainclothes police officer shot Scott. Three uniformed officers at the shooting scene had body cameras, but the shooter did not. The police officer has been placed on leave.
Residents say Scott was unarmed, holding only a book, and disabled by a brain injury.
Peaceful protests turned violent on Wednesday, night two of demonstrations in downtown Charlotte. Along with one person being shot, there were reports of stores looted, windows broken, and reporters on scene threatened and assaulted.
During the press conference Thursday, Police Chief Putney said the police had only used gas to disperse crowds during the riot on Wednesday night.
Putney said there was an assault with a deadly weapon at the Omni Hotel, and a man sustained gunshot wounds and is in critical condition. Not much more was said about the man or the circumstances surrounding his assault.
Social media posts on Thursday afternoon, however, show police moving into the Omni Hotel, with the crowd following. At one point police reverse back into the crowd and a volley of shots is heard fired into the crowd.
One poster Jimmy James Tyson said he attended to a man who was shot by police in the head with a rubber bullet and there was a lot of blood, the hit severed an artery but there was no brain matter.
Charlotte is known as the banking capital of the South and many banks are located downtown, with a population of 830,000 people, about 35 percent of them black.
READ MORE: 'Fed up and scared': Protesters talk about Scott protests
Bank of America, Wells Fargo and Duke Energy all told their employees to stay away from the downtown Charlotte area on Thursday.
North Carolina Governor Pat McCrory declared a state of emergency Wednesday night and called on help from the National Guard. The AP reported no Guard members were present to the street Thursday morning.
The Justice Department is sending a team of trained peacekeepers "designed to help resolve community conflict," according to AP.
You can share this story on social media: