Not #CharlotteProtest: Shocking assault on elderly man actually took place in London (VIDEO)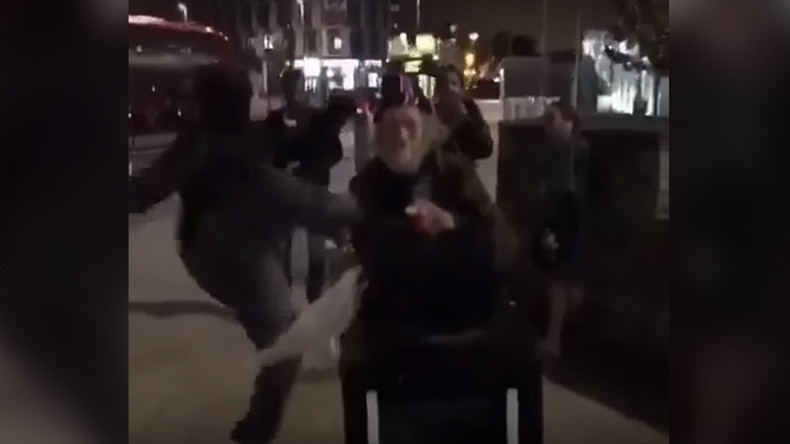 Social media users are mistakenly blaming police brutality protesters in Charlotte, North Carolina for a violent attack on an elderly man after footage of the incident was shared widely online.
The short video shows an older white man being violently kicked to the ground without warning in what appears an unprovoked attack. The assault is met with wild cheers from a small group of people nearby.
READ MORE: State of emergency: 1 shot, troops deployed as police brutality protests turn violent in Charlotte

Footage of the incident was widely shared on Twitter on Wednesday and Thursday with people claiming it took place during the second night of protests in Charlotte following the police killing of black man Keith Scott.
However, even minimal scrutiny reveals the video was not shot in Charlotte. The elderly man is clearly seen standing beside a 'Litter' bin just before the attack - a word not commonly used in the US - and a red double decker bus, not in use in Charlotte, is seen passing in the background.
READ MORE: Reporter taken out by aggressive Charlotte protester live on air (VIDEO)
A closer look also reveals a Transport for London bus stop sign in the background.
Scores of Twitter users waded in to point out the video was clearly not filmed in Charlotte.
The incident actually took place around the Stratford Centre in London and the Metropolitan Police have confirmed they are investigating.
However, the victim has yet to be identified, it's not clear when the attack was filmed, and no arrests have been made in connection with the incident.
You can share this story on social media: