Reporter taken out by aggressive Charlotte protester live on air (VIDEO)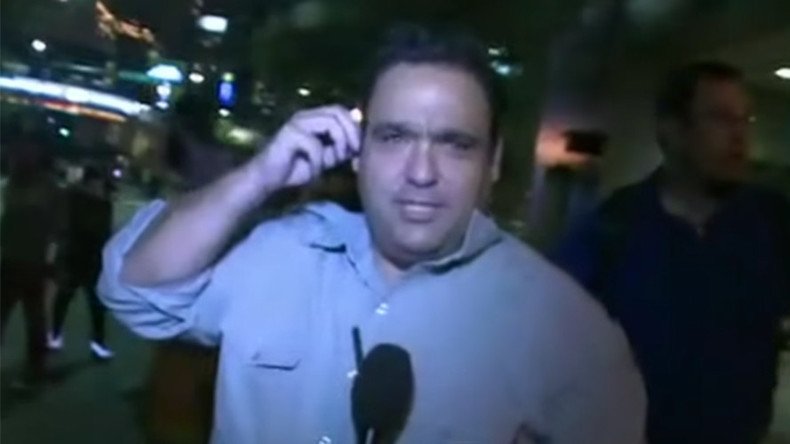 A CNN reporter was knocked to the ground live on camera by a passing protester during public uproar in response to the fatal police shooting of Keith Lamont Scott in Charlotte, North Carolina.
Ed Lavandera was reporting from Charlotte Wednesday night where a state of emergency has been declared after protests turned violent. One person was shot and seriously injured, while at least 16 police officers sustained injuries.
Lavandera was addressing the camera when a passing protester suddenly shoulder charged him, knocking him off his feet.
For a guy that hates to be part of the story, let me just say I am fine. Thank you for your well wishes. Back to work now.

— ed lavandera (@edlavaCNN) September 22, 2016
READ MORE: State of emergency: 1 shot, troops deployed as police brutality protests turn violent in Charlotte
Lavandera later received a hug and apology from the body slammer off air, according to Fox reporter Liz Kotalik.
Scott, 43, was shot by a plainclothes officer on Tuesday. He was told by police to exit his vehicle which was parked outside an apartment complex where they were looking for another man.
North Carolina's police chief says Scott was carrying a gun at the time and refused to drop it, however the victim's family maintain he was armed with nothing more than a book.
READ MORE: Man killed by cop had gun, not book – Charlotte police chief
You can share this story on social media: