Raging fire at power plant causes total blackout in Puerto Rico (PHOTOS, VIDEOS)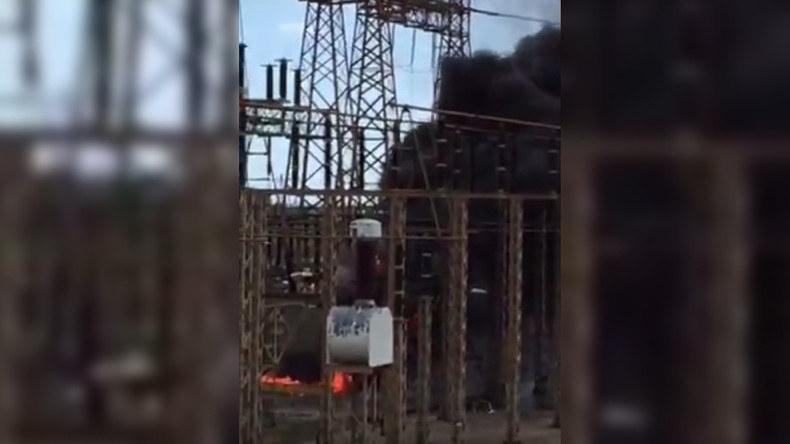 A massive blaze at a power plant in Puerto Rico has left around 1.5 million islanders without electricity. The causes of the fire remain unknown.
The fire has damaged the two main transmission lines of 230,000 volts, according to a local power company, Electric Power Authority (EPA). An investigation by the company is under way, while no injuries have been reported.
The power outage has reportedly caused massive traffic jams on the island. Road police are regulating traffic manually. Train services in the capital city of San Juan have been halted.
According to the AEMEAD, the emergency and disaster agency in Puerto Rico, the fire is "under control."
The blackout caused 15 fires across Puerto Rico due to malfunctions of generators, local authorities said. All the consecutive fires have been reportedly put out, no one was injured.
The power company said that it will restore the power as soon as possible. According to company's press release hospitals, airports, police stations and Aqueducts and Sewers Authority plants are the priority.
"We are working hard to achieve recovery [of the] system and restore service to our customers. We ask the public to remain calm in this situation and our colleagues remind you the most important thing is the safety of everyone," Periodico La Perla quoted Javier Quintana Mendez, the executive director of EPA, as saying.
The causes of the blaze remain unknown.
EPA has faced numerous allegations of corruption, and had a $9 billion debt, according to Florida paper Orlando Sentinel. Previously the company said they were seeking more revenue to upgrade "outdated equipment." Power bills in Puerto Rico, however, are on average twice that of the US mainland.