'Not a whodunit': Florida inmate begged for help as guards gassed him to death, lawsuit claims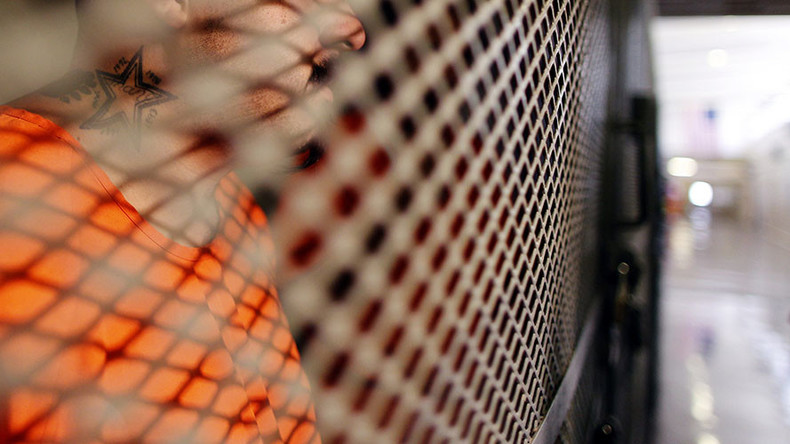 Florida prison officials tried to cover up the death of an ill inmate who was gassed at least three times as he screamed for help, according to a federal civil rights lawsuit filed on behalf of the man's 12-year-old daughter.
The suit also alleges prison officials conspired to cover up the death.
The federal civil rights lawsuit alleges corrections officers murdered Randall Jordan-Aparo instead of giving him medical attention. The 27-year-old was serving a sentence of one year and seven months for credit card fraud in the Franklin Correctional Institution at the time of his death in March 2010.
He was found dead in his cell, naked except for his boxer shorts. Photographs of his body show him face-up next to his Bible. His hair, legs, toes and mouth – as well as the walls of his cell – were coated with orange residue, a byproduct of the chemical spray.
"He was subjected to 600 grams of chemical agents in a confined space, well over lethal levels," reported the Miami Herald in 2014.
"He had a disease which affected his breathing, which we believe makes him a disabled adult. They knew he had this disease," Steven R. Andrews, the family's attorney, told the Associated Press. "There were other inmates who heard him screaming, begging for help, while he clutched his Bible. When people go to prison, that shouldn't be a fear that they have."
Jordan-Aparo suffered from a genetic blood disorder that had flared up in the months before his death. As his conditioned worsened, corrections officers, doctors and nurses at the prison denied him medical attention, and when he complained, they forced him into an isolation cell and gassed him until he could no longer breathe, according to the complaint.
The lawsuit field in Tallahassee federal court on Monday, alleges that the prison's nurses, doctors and warden conspired to cover up his death by removing evidence, doctors reports and threatening witnesses. The suit was filed by Amanda Cimillo, the mother of Jordan-Aparo's daughter.
"It shouldn't take six years to bring charges in this case. This is not a whodunit," Andrews told the Miami Herald.
Jordan-Aparo's death is still under investigation by the FBI and the Florida Department of Law Enforcement (FDC).
The Miami Herald reported that the FDC's own investigators filed a lawsuit against the Florida Department of Corrections. The FDC officials claim not only did corrections officials conspire to cover up Jordan-Aparo's death, but also retaliated against them when they tried looking further into the matter.
The lawsuit is one of a series of legal actions filed against the Florida Department of Corrections involving sudden deaths of inmates.
After investigations into the abuse of Jordan-Aparo and other inmates by the Miami Herald and other outlets, changes have been made at the Department of Corrections, including the firing of nearly 50 prison employees, including several related to abuse allegations.