Human rights groups launch campaign seeking pardon for Snowden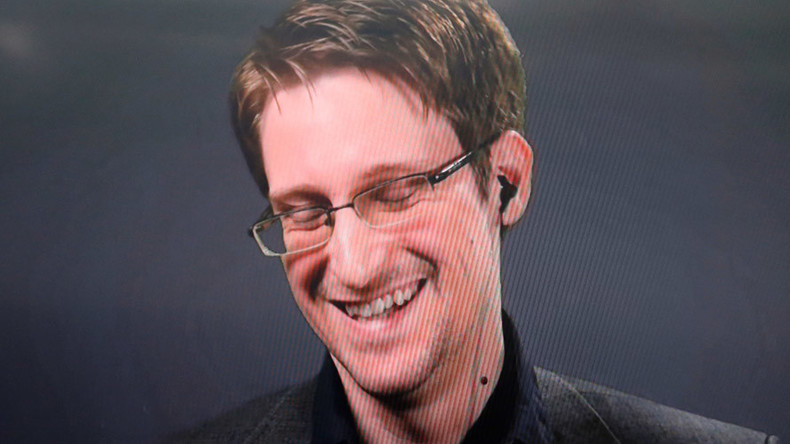 Three leading human rights organization launched a campaign to try and persuade President Barack Obama to pardon National Security Agency whistleblower Edward Snowden of his theft and espionage charges in the US before he leaves office.
"Presidents normally take some of the most difficult actions of their eight years in office in the final months," Anthony Romero, the American Civil Liberties Union executive director, said during the New York news conference on Wednesday, along with representatives from Amnesty International and Human Rights Watch.
The groups said the time was right to rally support for a pardon for Snowden who blew the whistle on top-secret US surveillance programs to journalists in 2013. He fled to Hong Kong and was granted asylum in Russia. The ACLU is providing legal representation for Snowden.
Snowden, speaking via a video linkup during the press conference said "I do not myself ask for a pardon and I never will."
"I love my country, I love my family, and I have dedicated my life to both of them," said Snowden told reporters. "These risks, these burdens that I took on I knew were coming, and no one should be in this position to make these kinds of decisions. That is not the kind of place we are supposed to be, and it doesn't have to be. Of course, I look forward to coming home but I cannot support the persecution of those charged under an Espionage Act when they committed no espionage."
Snowden was charged by US federal prosecutors in 2013 with theft of government property, unauthorized communication of national defense information, and willful communication of classified communications intelligence to an authorized person.
Snowden said he could not receive a fair trial in the United States because a law he was charged under, the 1917 Espionage Act, does not let him explain to a jury his reasons for leaking.
"This World War I-era law does not distinguish between those who freely give critical information to journalists in the public interest or spies who sell it to a foreign power for their own," said Snowden, who lives in Moscow.
READ MORE: 'Let him come home:' Star Trek's new Spock calls Espionage Act charges against Snowden 'absurd'

The campaign for a pardon includes a website, pardonsnowden.org, that people can use to write to the White House. The group ran ads in the Washington Post and Politico newspapers, and argued Snowden exposed unlawful programs and prompted reforms.
White House spokesman Josh Earnest said Monday that the president believed Snowden should return to the US to face charges. He said Obama's position is that Snowden's leaks harmed national security and put Americans at risk.
On Thursday, the House of Representatives intelligence committee is scheduled to hold a closed-door meeting to vote on a report it has prepared examining Snowden's background and activities, according to the Associated Press. Most of the report is expected to remain classified, but a congressional official told AP the panel will also vote on whether to publicly release an unclassified summary.
The campaign coincides with the release of a film on Friday, titled "Snowden," directed by Oliver Stone.