Gunning for reform: Democrats revamp fight to force gun control vote before recess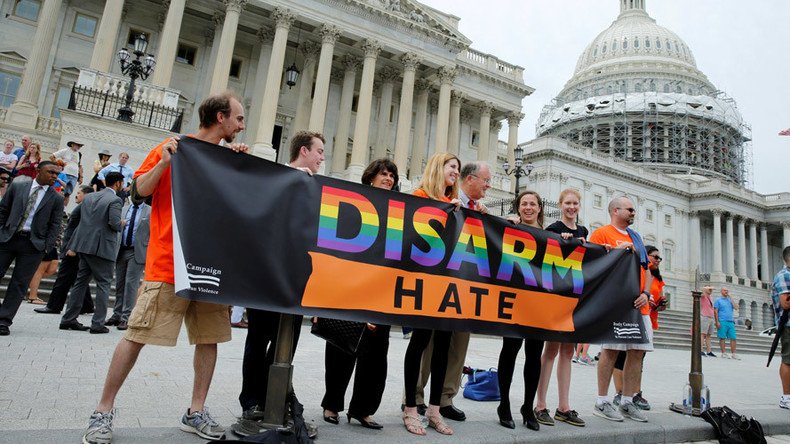 Democrats in the House of Representatives are renewing efforts to force Republicans to vote on gun control measures. Nearly three months ago, Democrats staged a 25-hour-long sit-in on the House floor for the same cause.
Congress is set to adjourn at the end of September, which means Democrats are making one last effort to push for increased gun control measures before the recess. To bring public pressure on House Speaker Paul Ryan (R-Wisconsin), Democrats engaged in what they called a "twitterstorm," tweeting directly at Ryan to #CloseTheLoophole.
Civil rights activist and Georgia Representative John Lewis (D) iniated the call for votes on Wednesday by announcing, "The people demand that we act and that we act now – not next week, next month or next year, but now – before we leave and go home," Lewis said with 10 other Democrats by his side.
After Lewis yielded his time, Republicans put the chamber in recess and shut off cameras, according to The Hill.
Democrats are demanding that Republicans vote on measures that would expand background checks and prevent suspected terrorists on the no-fly list from purchasing weapons.
Minority Leader Nancy Pelosi (D-California) emphasized the need of the vote, telling NBC News, "we have a little time to save lives. What more important thing does any of us have to do than to stay here and pass a law to save lives? Somebody said to you, you could save 90 lives by passing a bill today, wouldn't you do that? Or why wouldn't you do that? Why wouldn't you do that."
Ryan has been evasive about the vote, but he told reporters last week that Democrats could expect ramifications for their June protest when leadership would "see when we do something about it."
"Our goal here and our job is to protect this institution. Protect this institution so that democracy can work, so the house can get its job done," Ryan told NBC News.
You can share this story on social media: