Hillary 'screws everything up,' Trump a 'disgrace' – Colin Powell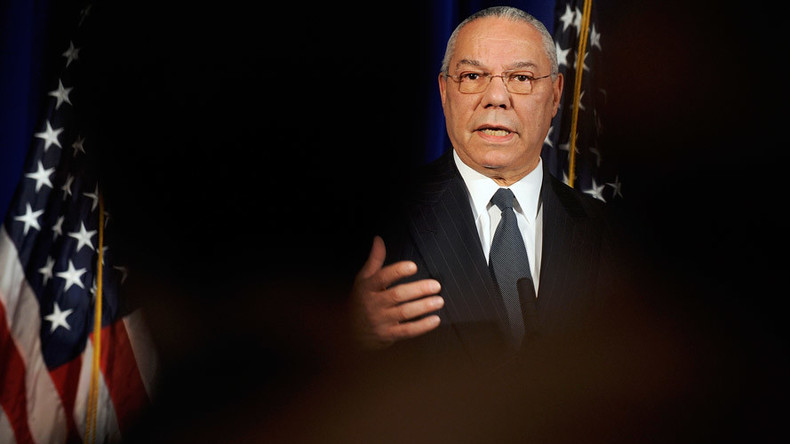 Hacked emails from former Secretary of State Colin Powell reveal scathing statements about both Republican presidential candidate Donald Trump and his Democratic rival Hillary Clinton, who claimed Powell instructed her on using a private email server.
Whistleblower website DCLeaks posted some of Powell's emails on its site Wednesday, giving the access password to several news organizations (RT was not among them). Powell's spokeswoman Peggy Cifrino confirmed that the emails were authentic.
"We have confirmed that the general has been hacked and that these are his emails," she told the Washington Post. "We have no other comment at this time."
Powell reportedly called Trump a "national disgrace and an international pariah," who "has no sense of shame." In June 2015, he wrote to an aide that "the whole birther movement was racist," noting that Trump led the calls for President Barack Obama to publish his birth certificate and prove US citizenship.
Questions about Obama's citizenship actually originated with Clinton's campaign in 2008.
READ MORE: Breedlove's war: Emails show ex-NATO general plotting US conflict with Russia

While Powell's denunciations of Trump made headlines on Thursday, his disdain for Clinton has attracted far less attention. Multiple emails have revealed Powell's frustration with Clinton over the claims that he had instructed her on the use of private emails, during a 2009 dinner with several former secretaries of state.
"She didn't need any advice or ok from me; she was already doing it," Powell wrote in August 2016. "I warned her staff three times over the past two years not to try to connect it to me."
In another message, Powell writes that Clinton "could have killed this two years ago by merely telling everyone honestly what she had done and not tie me to it," according to The Intercept.
"I told her staff three times not to try that gambit. I had to throw a mini tantrum at a Hampton's party to get their attention. She keeps tripping into these 'character' minefields," Powell complained, noting that he had tried to resolve the issue by meeting with Clinton aide Cheryl Mills.
Another interesting exchange is from March 2015, when Powell and his business associate Jeffrey Leeds discussed Clinton's health problems.
"On HD tv she doesn't look good," Powell wrote. "She is working herself to death."
"Sheldon Whitehouse, who is a huge Clinton supporter, said they were both giving speeches at the same event a few months back and she could barely climb the podium steps," Leeds replied. Whitehouse is a Democratic US Senator from Rhode Island.
During that conversation, Leeds revealed how much the Clintons hated Obama. The presidency is "the one prize she wants. She has everything else," Leeds wrote, adding, "She can't believe it or accept it" that Obama "('that man' as the Clintons call him)" defeated her in 2008.
"Everything HRC touches she kind of screws up with hubris," Powell wrote to Leeds in August 2015. "I told you about a gig I lost at a university because she so overcharged them they came under heat and couldn't [sic] any fees for awhile. I should send her a bill."
At the time, Powell was on the advisory board of Leeds Equity Partners, an investment firm that has owned the for-profit giant EDMC – the parent of the Art Institutes, Argosy University, Brown Mackie College and South University – since 2006, in partnership with Providence Equity Partners and Goldman Sachs.
Perhaps the least flattering description of Clinton comes from a June 2014 email to Leeds.
"I would rather not have to vote for her, although she is a friend I respect. A 70-year person with a long track record, unbridled ambition, greedy, not transformational," Powell wrote, ending with a crass comment about Bill Clinton's sexual dalliances.
The retired four-star general was the first African-American to chair the Joint Chiefs of Staff (1989-1993) and serve as secretary of state under President George W. Bush.
You can share this story on social media: