Blue Origin reveals enormous new reusable rocket to blast SpaceX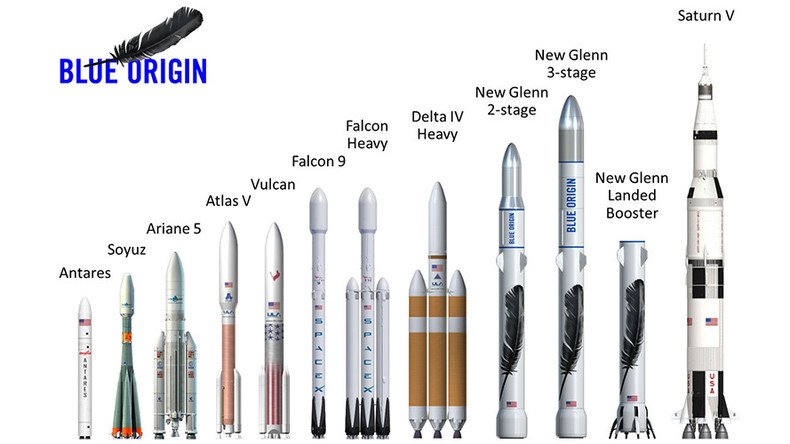 Billionaire entrepreneur Jeff Bezos promises that both satellites and people will be launched into space by 2020 in his newly revealed enormous, reusable rocket, "New Glenn."
The announcement came in the form of a newsletter from Bezos' private spaceflight company, Blue Origin, on Monday. The reveal included a drawing of two and three-stage versions of the New Glenn rocket, which will stand at 270 feet (82 meters) and 313 feet (95 meters) respectively.
READ MORE: Blue Origin rocket completes 'picture perfect' 4th test launch and landing (VIDEO, PHOTOS)

That's big. Very big. As Space.com points out, that's taller than SpaceX's upcoming Falcon Heavy and United Luanch Alliance's Delta IV Heavy, and the three-stage version is close to the size of NASA's Saturn V that carried astonauts to the moon.
Blue Origin are in the process of building a 750,000-square-foot (70,000 square meters) rocket-manufacturing facility for New Glenn in Florida and expect the rocket to launch within the decade.
READ MORE: Looking to get away? Blue Origin plans to launch tourists into space in 2 years

"Our vision is millions of people living and working in space, and New Glenn is a very important step," said Bezos, founder of Amazon and the third-richest man in the world.
"It won't be the last of course. Up next on our drawing board: New Armstrong," he added.
Before skeptics dismiss the New Glenn's ambitious adventure, it's worth noting Blue Origin is responsible for the world's first successful landing of a reusable rocket on a landing pad. In fact, the company flew a reusable rocket into space before landing it safely back to earth – twice.
You can share this story on social media: