Not too big to bail: Wells Fargo exec responsible for scam retires with $124.6mn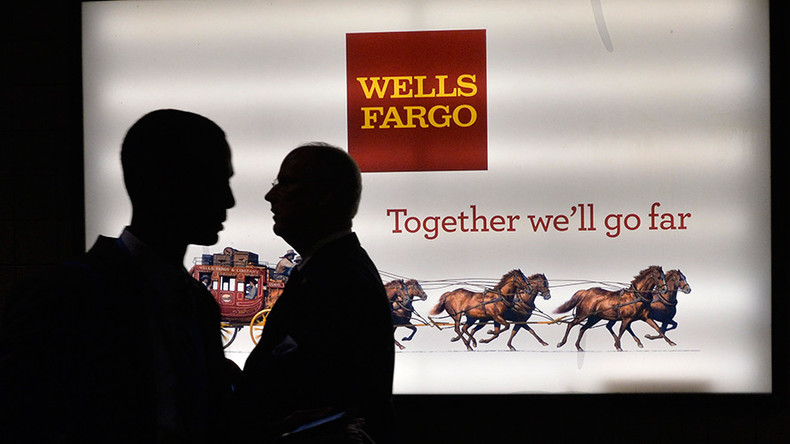 Days after Wells Fargo was discovered to be opening unauthorized fee-accruing accounts for customers, head of community banking Carrie Tolstedt decided to retire. Her exact role in the scheme remains unclear, but her generous paycheck is raising eyebrows.
Carrie Tolstedt announced in July that she was deciding to "retire at year's end after a long and successful career."
Her timing is somewhat curious, given that on Thursday, Wells Fargo received the largest penalties imposed by the Consumer Financial Protection Bureau (CFPB) for unethical behavior that stemmed from the department Tolstedt oversaw, Fortune reported.
It is even more curious now that she is walking away with nearly $125 million in salary, stocks, options and Wells Fargo shares, because she retired. Had she been fired, she would have had to forfeit at least $45 million, according to Fortune.
READ MORE: Another day, another $185mn: Wells Fargo fined for opening fake accounts

In a settlement with the Los Angeles City Attorney, Office of the Comptroller of the Currency and CFPD, Wells Fargo was ordered to pay $185 million to settle charges that resulted from employees fraudulently opening up unauthorized fee-generating accounts in customers' names, in order to reach sales targets and receive bonuses, according CFPB director Richard Cordray.
Where Tolstedt fits into all this is murky. Her department was the one found responsible for opening up over 2,000 unauthorized customer accounts that were so commonplace that employees internally referred to the practice as "sandbagging."
It is also unclear how her nine-figure paycheck factors into this, if at all. She is receiving $124.6 million in back pay, which is about 75 percent of the GDP of the Falkland Islands. Neither the lawsuit from the CFPD, nor from the LA City Attorney mention Tolstedt by name, and she managed parts of the five-year long purge of employees who participated in sandbagging, Fortune reported.
On the other hand, the charges from the CFPB allege that Wells Fargo was aware of the behaviors of its employees long before it began purging guilty parties from its ranks. In addition, the proxy statement from Wells Fargo often cited "cross-selling ratios" as a reason for her $9 million annual pay. In a class action lawsuit from former employees, failing to meet cross-selling goals could result in termination.
In addition, three-quarters of the fraudulent accounts came from the community banking department, along with 565,000 unauthorized credit card applications, according to Fortune.
Wells Fargo does have a claw back policy, meaning that they can take back any bonus pay from former executives if it's found that their conduct harmed the bank or its reputation or if they failed to "identify or manage" risks in their departments.
The bank's statement on her retirement from July that refers to her as "a 30-plus year veteran of financial services with 27 years at Wells Fargo," and "a leader in building and deepening customer loyalty and team member engagement across the business" has not been amended to suggest any wrongdoings.