Arrest warrant for Democracy Now! journalist Amy Goodman over North Dakota pipeline protest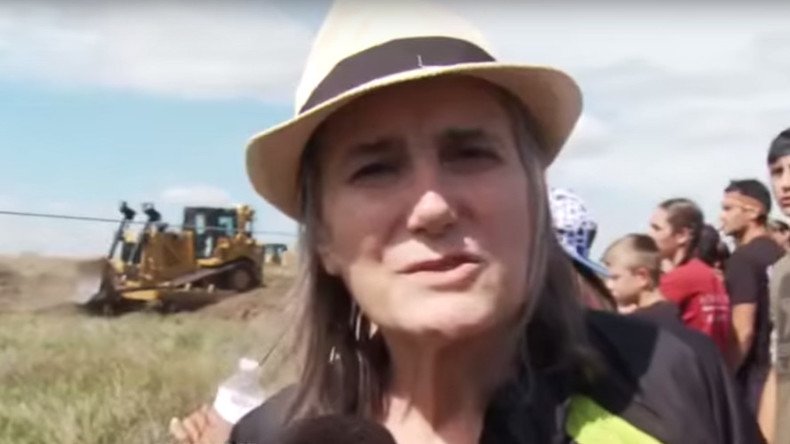 Democracy Now! journalist and producer Amy Goodman has been issued an arrest warrant for covering the Standing Rock Sioux tribe's North Dakota pipeline protests.
The Native American tribe and their supporters are protesting a proposed $3.8 billion Energy Transfer Partners pipeline, which would carry oil across four states, because of concerns that the 470,000 barrels of oil passing through their land each day could poison the water.
While reporting from the site of the protests last week, Goodman captured private security contractors using dogs and pepper spray on the demonstrators in a broadcast that went viral.
On Sunday, Goodman announced that she had received an arrest warrant for alleged criminal trespass during the protest. The misdemeanor carries a maximum penalty of a $500 fine and 30 days' imprisonment.
"This is an unacceptable violation of freedom of the press," Goodman said in a statement on Sunday. "I was doing my job by covering pipeline guards unleashing dogs and pepper spray on Native American protesters."
Democracy Now! is an independent news channel that has covered the Native-American-led protests in depth, capturing the clashes between private security and protesters and showing a man with bite marks and a dog with a bloody mouth.
Goodman's arrest warrant was reportedly discovered by attorneys looking into the arrest of Red Warrior Camp protest organizer Cody Charles Hall, who was arrested for criminal trespass on Friday.
Read more: Obama dodges Dakota pipeline question, fails to back Native American protesters
Thirty-eight people have been arrested at the protests, Native News Online reports.
Green Party presidential nominee Dr. Jill Stein also received an arrest warrant, along with her running mate, Ajamu Baraka, for scrawling graffiti on equipment during the protests.
Read more: Jill Stein charged for spray-painting bulldozer in Dakota pipeline protest
You can share this story on social media: