Obama dodges Dakota pipeline question, fails to back Native American protesters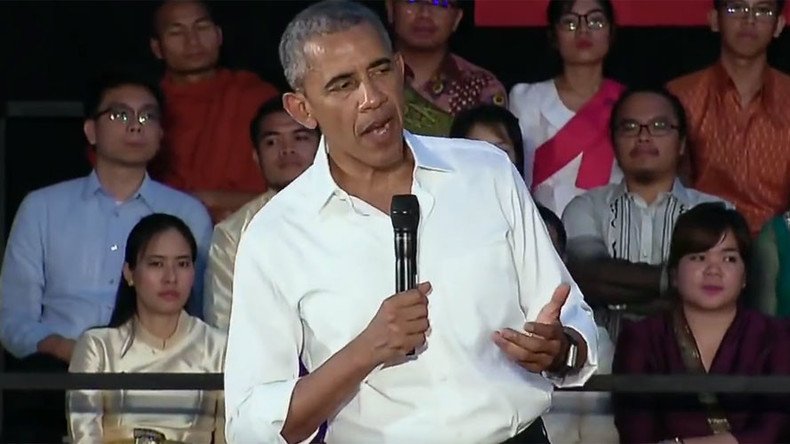 President Barack Obama failed to support the Standing Rock Sioux Tribe's fight against the Dakota Access pipeline, claiming he wasn't up to speed on the details when asked about the controversial project Wednesday.
While speaking at Souphanouvong University in Luang Prabang, Laos, Obama was asked, "In your capacity, what can you do to ensure the protection of the ancestral land, the supply of clean water and also environmental justice is upheld?"
Obama described treatment of Native Americans as "tragic" and claimed to have started an "honest and generous and respectful" relationship with indigenous tribes, but then added that he would have to consult with his staff on this one.
"Now, some of these issues are caught up with laws and treaties, and so I can't give you details on this particular case," he said. "I'd have to to go back to my staff and find out how we are doing on this one."
The question was put to Obama while protesters face violence from oil industry thugs.
Activists have been attacked with attack dogs and pepper sprayed while attempting to prevent the destruction of the ancient Native American burial site.
At least six people were bitten by the dogs.
Members of various tribes tied themselves to machinery in protest.
The Green Party's Jill Stein is the only presidential candidate to have visited the site and offer support.
A warrant was issued for her arrest on Wednesday for spray painting equipment and her running mate, Ajamu Baraka, also faces charges.
The $3.8 billion pipeline is proposed to stretch across four states, but Native Americans are concerned the 470,000 barrels of oil passing through it per day could poison their water supply through leaks and spills, particularly where it crosses under the Missouri River, the longest in North America.
Energy Transfer Partners (ETP), which is developing the project, claims that potential environmental destruction is worth the risk because of the jobs and profits the pipeline will create.
ETP is owned by Texas billionaire Kelcy Warren, who In These Times reports has a "history of profiting off disasters," including the 2001 collapse of Enron and Hurricane Rita, when federal regulatory agencies accused his company of manipulating natural gas prices in Houston.
The company settled out of court, with $10 million going to the Commodity Futures Trading Commission and $30 million to the Federal Energy Regulatory Commission.
You can share this story on social media: