15yo girl dragged by hair and thrown 'like a doll' in brutal arrest - lawsuit
A 15-year-old girl was met with an extreme use of force when she and her brother were riding their bikes through a mall parking lot in Washington and were stopped by mall security and an off-duty officer.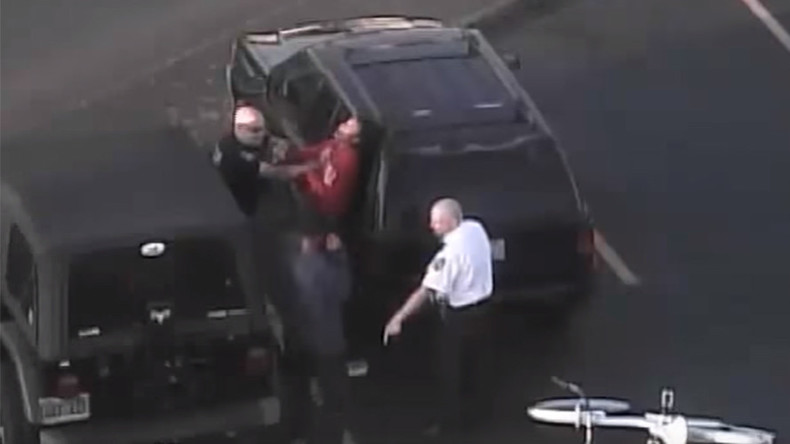 A lawsuit on behalf of Monique Tillman and her brother, Eric Branch, claims their civil rights were violated when they were stopped by two security vehicles in the Tacoma Mall parking lot while biking home.
The girl demanded to know why she was stopped, but was met with an extreme use of force.
They believe that they were targeted for the stop, because they're African-American and also claim that the Tacoma police officer who attacked Tillman was negligent in his treatment of a minor while working off duty as a mall security guard.
A video of the 2014 incident between then-15-year-old Tillman and Tacoma police officer Jared Williams is a key piece of evidence in the lawsuit. The surveillance footage shows Tillman and Branch being stopped by a Tacoma Police Department Cruiser and a mall security vehicle.
Tillman is seen gesticulating while she allegedly demanded to know why they were being stopped, her lawsuit claims. Officer Williams claimed that the two teens were "causing a disturbance and being 'trespassed' from the mall," the lawsuit states.
Both Tillman and Branch repeatedly pointed in the direction they were riding their bikes, but when Tillman moved to ride away, Officer Williams reacted with severe force.
He pulled her from her bicycle in a forearm lock and slammed her against a vehicle, where he was "forcefully shoving his hand and forearm into her chest." He then dragged her by her hair and body slammed her to the pavement where he deployed his Taser on the teen.
Branch, then 17, can be seen trying to come to his sister's aid but was restrained by Henry Knaack, a security guard for the Tacoma Mall. Branch claims that Knaack threatened him with a Taser as well and "either grabbed or shoved" Branch to the ground.
Tillman was handcuffed and arrested, charged with resisting arrest, obstruction and assaulting a police officer. The charges were later thrown out of court, but Williams has yet to face any repercussions from the incident.
"I feel like I was targeted because I am a person of color," Tillman told the Seattle Times. "It was frustrating because I knew I didn't do anything wrong, but I couldn't stop them."
Although Williams was an off-duty security guard for the mall, he was in full police uniform at the time. The lawsuit, which was originally filed in May, was amended to include the Tacoma police department, its chief, and two other defendants, another officer and a security guard.
"I think it's important to stress that police officers are there to protect and serve the community," Tillman's attorney, Vito de la Cruz, told the Washington Post.
"It isn't about money," Tillman told KCPQ. "Honestly, I think I deserve a sincere apology from him."
But as a result of her interaction with the Tacoma police officer, Tillman "doesn't feel secure," de la Cruz told the Post. "She is frightened of police officers and doesn't feel like she is safe."
"For too long, the African American community and other communities of color have felt that they're not protected when they're out and have police encounters," he added, going on to say, "These two children were riding their bikes and that was all they were doing. And they're African American, and that seems to have been the reason why they were stopped. At least a prime motivator for it."
You can share this story on social media: