Taking a sit: Teacher punished after forcing student to stand for Pledge of Allegiance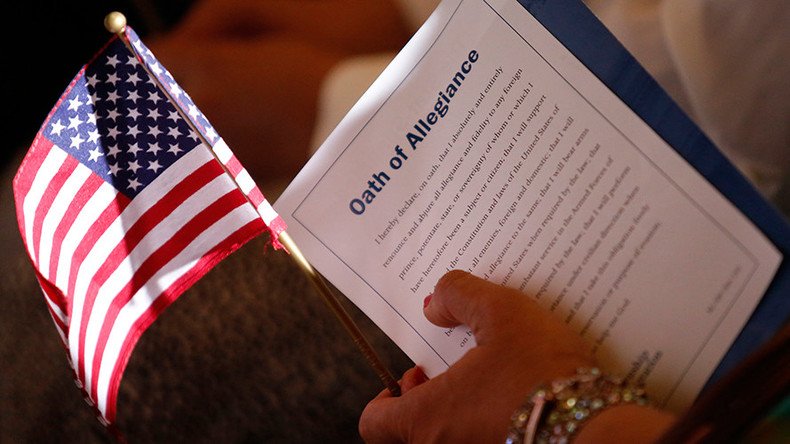 A high school teacher has been suspended after trying to physically force a 15-year-old student to stand for the Pledge of Allegiance. The teen had been harassed by staff for his decision to sit, despite being protected under the First Amendment.
After launching an investigation into accusations that a teacher at Dwight D. Eisenhower High School in Blue Island, Illinois, had pulled a student out of his seat to stand for the Pledge, an attorney for the district has announced that the teacher will face punishment. The student, Shemar Cooper, first had to defend his decision on August 26, WGN reported.
San Francisco 49ers quarterback Colin Kaepernick sat during the national anthem in protest over a similar issue later that same day, coincidentally.
Cooper explained his decision to not stand as being an act of protest against police brutality.
"America doesn't respect Blacks," he told WGN. "Until they stop killing us, I'm not going to stand up."
Unfortunately, the teenager did not phrase it that eloquently when he was first asked about it by his Spanish teacher, telling her instead: "America sucks."
Cooper's mother, Kelly Porter, called that statement "disrespectful" and made him apologize to his teacher, CBS News reported. After that, her son was allegedly harassed by the other staff members who sent him to the principal's office for refusing to stand – despite it being unconstitutional, according to the American Civil Liberties Union.
Last Tuesday, his refusal to stand resulted in his teacher attempting to physically pull him out of his seat. Porter reported this to Blue Island police and wanted charges filed, but did appreciate the district's response.
"As long as she was held accountable, and she'll never do it again. You know, everybody has to learn from their mistakes. I'm not a hard or cold-hearted person. I'm very forgiving. I have released any anger that I had towards his teacher," Porter told CBS News.
Porter is the daughter of a World War II veteran.
"We don't hate America," she told WGN. "It's the behaviors that are put out from some of the people towards Black people that we disapprove of."
Porter also commended her son for his convictions, telling CBS: "I'm so proud of this little boy that I've raised, and I'm so proud of who I've raised him to be; to stand up for what you believe in, and in this case, to sit down."
In the time since Cooper was first punished for his decision to sit, multiple athletes have also chosen to sit or kneel during the national anthem as a sign of solidarity with Kaepernick, despite criticism thrown at him. Brandon Marshall, a linebacker with the Denver Broncos, refused to stand during the national anthem Thursday night.
US Women's National Team star Megan Rapinoe of the Seattle Reign chose to kneel during the Star Spangled Banner on September 4, and three days later, when the Reign played against the Washington Spirit, the owner of the Spirit decided to play the national anthem while the teams were still in the locker room, Deadspin reported.
Washington Spirit owner Bill Lynch confirmed that this decision was a direct response to Rapinoe's silent protest, accusing her of "hijacking our organization's event to draw attention to what is ultimately a personal – albeit worthy cause."
He also claimed that her decision to kneel was an insult to armed forces, despite the outpouring of veteran support for Kaepernick.
More athletes have joined in the protest, including San Francisco 49ers safety Eric Red and Seattle Seahawks cornerback Jeremy Lane. The move is a bold one, particularly after Denver Nuggets guard Mahmoud Abdul-Rauf was suspended by the NBA in 1996 for refusing to participate in the national anthem.
Twenty years later, Abdul-Rauf does not regret his choice.
"It's priceless to know that I can go to sleep knowing that I stood to my principles," Abdul-Rauf told The Undefeated.
You can share this story on social media: