Alabama's appellate courts system rigged to block minority judges - lawsuit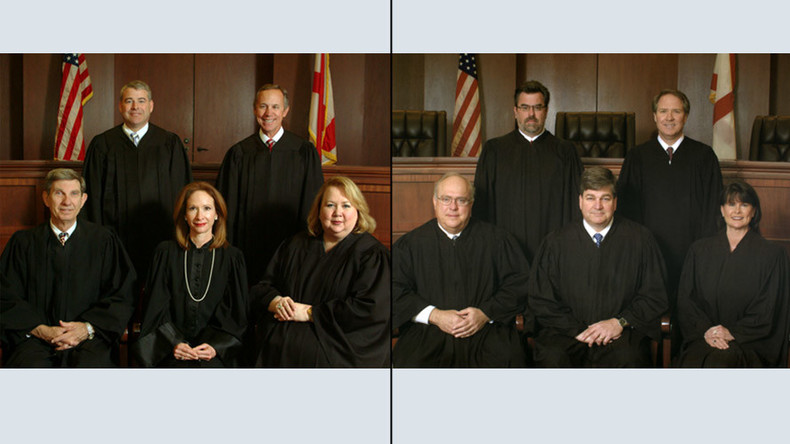 Alabama is going to court, over their courts. A lawsuit from the NAACP claims that Alabama's election system for judges has blocked African-Americans from ever serving on the state's criminal and civil appellate courts.
Despite whites making up just under 70 percent of Alabama's population, they hold 100 percent of the state's civil and criminal appellate courts. In addition, Alabama's Supreme Court has only had three African-Americans on its bench in the past 36 years, according to a lawsuit from the National Association for the Advancement of Colored People (NAACP).
Many law firms have joined the NAACP's lawsuit. It was filed in a federal court by the Lawyers' Committee for Civil Rights Under Law in partnership with civil rights attorneys James Blacksher and Edward Still, Montgomery-based attorney J. Mitch McGuire, Crowell & Moring LLP, and the firm Stroock & Stroock & Lavan LLP – the last two of whom are working pro bono, according to the Alabama Media Group.
Appellate judges are voted into their positions, where they are meant to represent their state's adult population. However, the NAACP believes that Alabama's history of racial discrimination in voting could play into the uneven racial representation of appellate court judges.
"In 2016, Alabama's appellate courts are no more diverse than they were when the Voting Rights Act was signed more than 50 years ago," Kristen Clarke, president and executive director of the Lawyers' Committee, said in a statement.
The lawsuit explains that blacks represent one in four Alabamians, but tend to favor different political stances than their white statesmen. As a result, "the at-large method of election deprives one-quarter of the State's voting-age population of the chance to elect judges of their choice to any of the nineteen seats on the three courts."
This represents a large part of the problem to the NAACP. Alabama is only one of seven states that votes in appellate court judges with the same bi-partisan elections that they use to elect their governor and their attorney general. However, because of Alabama's status as a Republican stronghold, the Republican primaries are what some believe determine who becomes a judge, the Toledo Blade reported.
The lawsuit also states, "At different points in its history, Alabama utilized poll taxes, literacy tests, and discriminatory redistricting methods to restrict African Americans' access to the franchise."
In October, Alabama was accused of voter suppression when it announced plans to close 31 driver's license offices in predominantly poor, rural, majority black counties, despite their controversial voter identification laws. In addition, in 2015, the Supreme Court found that Alabama's legislative districts are "racially gerrymandered," and found that their redistricting plans weaken blacks' political power by concentrating them together, thus increasing Republican power.
Alabama is home to 22 hate groups, according to the Southern Poverty Law Center. However, four of those are black separatist groups.
An appellate court is one that hears appeals to cases that have been ruled on in the past, but do not allow the presentation of new evidence or arguments. The importance of these courts is stressed by the fact that 63 percent of Alabama's prison population is black, according to the NAACP's lawsuit. Therefore, they are more likely to rely on a court of appeals.
In the statement, Clark said: "It is time for the highest courts in the state of Alabama to reflect the diversity of the communities they serve. This lawsuit seeks to provide African-American voters an equal opportunity to elect judges of their choice, achieve long overdue compliance with the Voting Rights Act and instill greater public confidence in the justice system of Alabama."
You can share this story on social media: