US car loan debt hits $1.027 trillion as subprime loans increase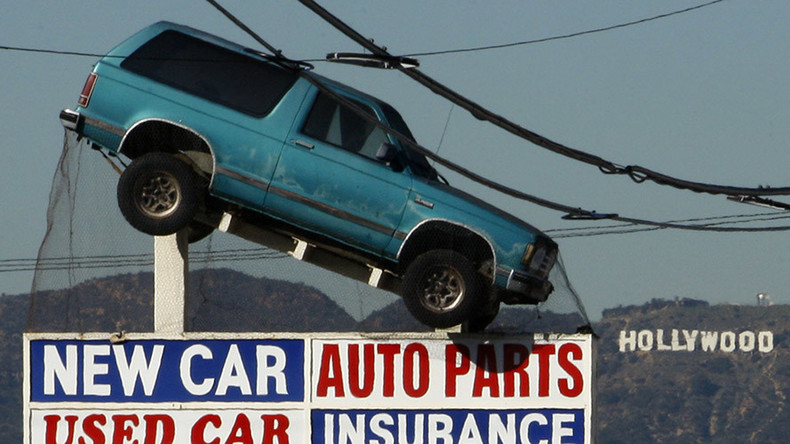 Total debt from car loans has surpassed the $1 trillion mark as loan delinquency rates continue to steadily climb. Some believe the heavy presence of subprime and deep prime loans could be shades of the 2007-10 subprime mortgage crisis.
The US has the third highest car ownership rate in the world, beaten only by San Marino and Monaco – two countries that have a lower combined population than Iowa City, Iowa. In addition, a 2015 census found over 86 percent of Americans rely on a car for their primary method of transportation. Given that the US is officially car country, should citizens be worried about the ballooning debt attributed to car loans?
With over a trillion dollars in loans for the second consecutive quarter, the percentage of subprime borrowers who are 60 or more days behind on their payment has increased by 17 percent since last year, USA Today reported.
In addition, the average car loan has also been increasing and is now up to $29,880, which is a 4.8 percent increase since the second quarter of 2015, reports Experian Automotive. Monthly payments have increased to $499, a $16 increase since last year, with more and more borrowers opting for longer terms, ergo paying more in interest.
But a real cause for concern is the subprime and deep prime loans that make up just under a quarter of all auto loans. Subprime loans are traditionally defined as loans given to borrowers with credit scores below 640, which is the threshold for "good" and low risk loans. Deep subprime means the borrower has an even higher chance of being delinquent on payments with credit scores below 550, which is defined by FICO as "poor."
While they decreased from 23.3 percent in 2015 to 22.8 percent in 2016, Cris deRitis, senior director for Moody's Analytics, sees "pockets of risk" in this market, he told the Detroit Free Press. He explained that small lenders run the greatest risk of being ruined if the economy takes a turn for the worse, particularly if they make loans in an area that is hit with layoffs or high unemployment, but that doesn't mean a repeat of 2007 is in the works.
"This isn't going to lead to another financial meltdown," deRitis said.
MarketWatch echoed these statements, explaining that while the trillion-dollar debt seems terrible, it is only a sliver of the size of the mortgage market that lead to the massive bailouts in 2007. While being told it's only a trillion dollars doesn't seem too reassuring, the likelihood of it tearing down the world's economy is significantly lower.
In addition, the percentage of leased cars is growing, going up from 26.9 percent to 31.44 percent over the course of the year. Because leased cars often have lower monthly payments, down payments and initial fees than purchasing a car, leasing cars could be more favorable to lower income Americans who need a method of transportation.
Experian Automotive hopes to quell any concern raised about the growing subprime loans.
"Yes, subprime and deep-subprime loans are growing, but the entire market is growing from a volume perspective across all risk tiers," Melinda Zabritski, Experian senior director of automotive finance, said to USA Today. "In fact, the subprime loans have actually dropped as a percentage of the total market. That, combined with only a slight uptick in delinquencies, makes clear that the sky is not falling."