US military ship forced to change course after 'harassment' from Iranian vessel - report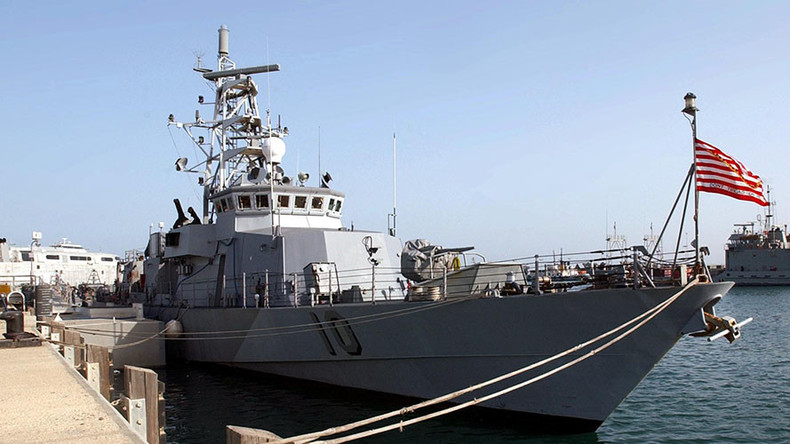 An American patrol ship had to change course in the Persian Gulf after an Iranian military vessel came within 100 yards (90 meters) and did not respond to attempts to contact it, US defense officials told Reuters.
The incident happened on September 4, according to the news agency, which cites two US Defense Department officials.
The USS Firebolt coastal patrol boat had to change course after a vessel of Iran's Revolutionary Guard sailed directly into its path.
The American ship is reported to have tried to contact the Iranian vessel three times, yet received no response.
The behavior of the Iranian vessel was judged "unsafe and unprofessional due to lack of communications and the close-range harassing maneuvering," one of the officials said, adding that uncovered and manned weapons were seen on the Iranian boat.
The incident is the latest in a line of similar cases involving the navies of both countries.
On August 24, the USS Nitze, a guided-missile destroyer, was intercepted by four Iranian military boats near the Strait of Hormuz. According to the US, the Iranians ignored attempts to communicate.
The Nitze and another guided missile destroyer, the USS Mason, were in international waters when they were encountered by four Iranian boats approaching at high speed.
The Iranian vessels, which belong to the country's Revolutionary Guard, came as close as 300 yards (274 meters) to the Nitze.
"These sorts of unsafe and unprofessional actions can lead to escalation and miscalculation," Commander Bill Urban, public affairs officer for US Naval Forces Central Command (NAVCENT), said at the time.
Commenting on the incident, Iranian Defense Minister Hossein Dehghan said the nation's forces patrol the area to protect its territorial waters.
The Strait of Hormuz is a key maritime route, through which about one-fifth of the world's oil supply flows.
A similar case in the region happened in July this year when five Iranian military vessels armed with machine guns approached the USS New Orleans and its escort, the USS Stout, a guided missile destroyer. The Iranian boats came as close as 500 yards (457 meters).
Six months prior to that, Iran detained 10 US sailors after they entered Iranian waters near the Farsi Islands on two military boats. The US claimed the incident was due to mechanical failure, with Iran later releasing all of the US servicemen.