Smog from oil, gas to cause over 750,000 asthma attacks in children – report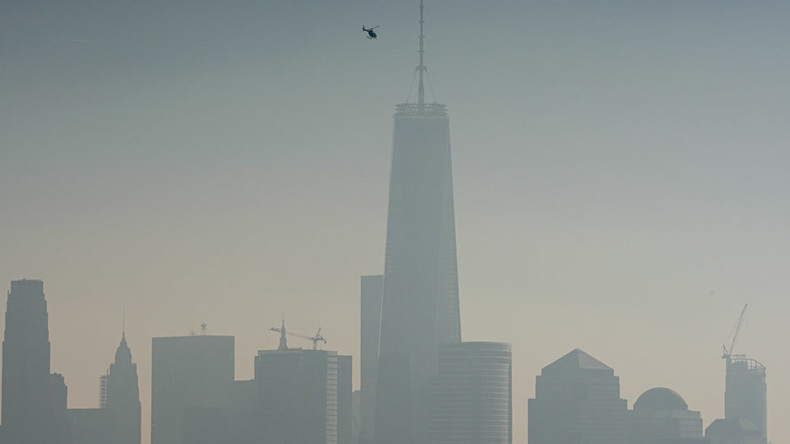 In a country where oil and gas are king, policies and politicians often turn a blind eye to the hazards associated with pollutants. A study from the Clean Air Task Force says if a change doesn't come soon, it's going to get very hard to breathe.
An independent researcher at Colorado State University analyzed air quality data collected by the US government and quantified the relationship between ozone smog, a known trigger for asthma and combination of various emissions released by gas and oil production, and asthma.
In addition, the study published on Wednesday found that if ozone continues to increase, there could be extreme ramifications for children and asthma sufferers in less than a decade.
The study, titled "Gasping for Breath," collected data on ozone pollution in all industries and compared "the health impacts in calculated in a 'baseline case' – that is, a case based on current trends in air quality that also accounts for expected growth in oil and gas production – to health impacts in a case with no emissions from the oil and gas industry" in order to estimate the effects that ozone from the oil and gas industry will have in 2025.
The study relies on the current rate of emissions because of a simple reason: "In June 2016, EPA finalized strong methane standards covering new and modified oil and gas facilities, but these standards do not apply to the 1.2 million existing oil and gas facilities around the county."
Meaning that in nine years, it is expected that the same 1.2 million facilities will still be used without the EPA's emission regulations.
Lesley Fleischman, the report's lead author, told Think Progress, "The vast majority of emissions are from existing sources."
According to the study, Texas, Colorado, Oklahoma and Pennsylvania will be hit the hardest by the negative effects from these emissions. For example, more than 300 Texans will go to the emergency room for respiratory distress. In addition, smog is estimated to cause over 140,000 asthma attacks in Texan children, who will also miss 105,000 days of school because of their asthma related problems.
On a national level, the picture is even more troubling. The study predicts that children will experience over 750,000 asthma attacks in 2025 will be the result of gas and oil emissions and miss 500,000 days of school.
What can't be calculated in this study is how many work days will be lost by parents who have to stay home or take their children to the emergency room.
Adults with asthma will also continue to suffer by missing an estimated 1.5 million person-days when they have to deal with the results of respiratory trouble.
However, the study has already received pushback from state agencies and oil and gas companies.
The Texas Commission on Environmental Quality's spokesperson, Andrea Morrow, contacted the Texas Observer to explain "that the authors of the report did not cite the sources of data for staff to fully evaluate the report."
In addition, "The report also failed to take the agency's steps to reduce emissions from the oil and gas industry into consideration," she said.
However, the article notes that Texas Attorney General Ken Paxton has plans for the state to fight the EPA's rules that lower the acceptable amount of ozone. Texas has already filed a lawsuit against the EPA for a rule that would reduce methane pollution from future facilities.
The Colorado Oil and Gas Association has already attacked the study, telling the Denver Post that the Clean Air Task Force is a "'keep-it-in-the-ground activist group' that cannot be trusted."
You can share this story on social media: