Police chief in office during Dallas shootings to retire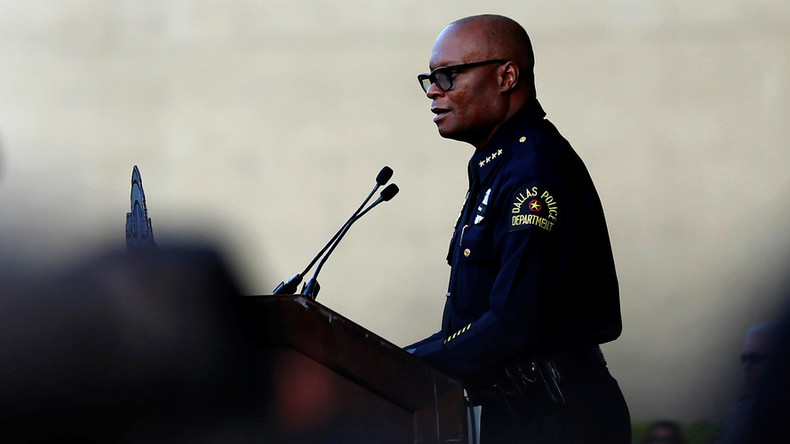 Dallas Police Chief David Brown will soon retire. The 33-year force veteran did not give any reasons, but had been in talks with the city about retirement prior to the July 7 shooting that left five officers dead.
Following a difficult summer, Police Chief David Brown announced on Thursday that his last day on the force will be October 22, after serving as police chief since 2010. Brown oversaw the Dallas Police Department through the July 7 attack on law enforcement that left five officers dead and eight people injured.
In his resignation letter, Brown said of the fallen officers, "Their memory will remain with all of us forever. I know the people of Dallas will never forget the ultimate sacrifice they made on the streets of our city that awful night."
Brown's career has been ridden with challenges few others have had to face, let alone police chiefs. Weeks before he was to be sworn in as police chief in 2010, his mentally ill son was killed in a shootout with police after he shot a bystander and an officer.
"This hurts so deeply I cannot adequately express the sadness I feel in my heart," he said in a statement.
Indeed, Brown's time in law enforcement has included many tragedies. In 1988, his longtime police partner was shot to death, and in 1991, his younger brother was murdered by drug dealers, ABC News reported.
But none of those incidents stopped him from his original mission: to make a difference. He became a police officer after leaving college early as a result of seeing the crack cocaine epidemic take hold of his neighbor, the New York Daily Times reported.
"I'm the kind of person that I probably wouldn't protest or complain," he told NBC News. "I get involved and do something about it by becoming part of the solution."
In February, he responded to a violent crime spike by starting a foot-patrol heavy initiative as part of a "community oriented policing" approach. However, the move cost him the support of the Black Police Association of Greater Dallas and several police union leaders. Despite their calls for his resignation, he defended his approach.
"The reward of serving this community is so great for me, that it's worth the challenges of people asking you to resign," he said.
But his tactic worked.
"The violent crime increase went from 30 percent from last year at the start of this month to now 22 percent. So it's going down, but we still have a lot of work to do," he told KXAS.
After such a tumultuous career, what can we expect from Brown moving forward?
"He's a man of notoriety and he has options, but he told me he just wants to sit and do nothing," Mayor Mike Rawlings said.