'Mass killing': Anti-Zika spraying accidentally slays millions of SC's honeybees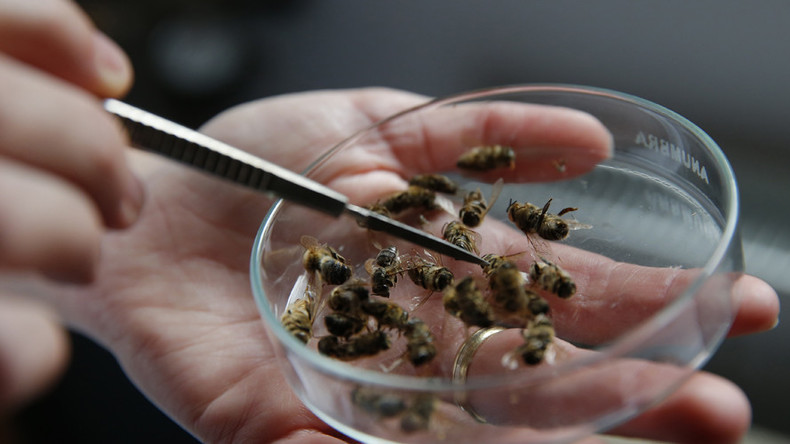 Millions of South Carolina's bees have unexpectedly fallen victim to the US fight against the Zika virus. Hives of bees dropped dead in Dorchester County, attempting to flee an insecticide attack that had primarily targeted mosquitoes.
"My bee yard looks like it's been nuked," local Juanita Stanley told AP, describing the devastating effect of the aerial spraying.
Stanley, for whom bees is a major income, is a co-owner of Flowertown Bee Farm and Supply in Summerville. They have lost nearly 2,5 million honeybees from 46 hives.
On Sunday morning, parts of Dorchester County were sprayed with Naled, a common insecticide that kills mosquitoes on contact. In the US, it has been used for nearly six decades, since 1959, primarily to control adult mosquito population.
Given that Dorchester County has seen an increase in insects due to rains and floods, humidity, a mild winter and an extremely hot summer, to local officials it seemed like a helpful move to prevent Zika. Especially after four travel-related cases of the virus were confirmed in Summerville. As of August 26, South Carolina had a total of 43 confirmed Zika cases.
"The aerial application will allow county officials to target areas wherein the level of demand cannot be addressed with ground spraying and larval control alone," the county said in a statement before spraying.
However, the fact that Naled, which poses no threat to people or animals, is highly toxic to bees, was not taken into account.
"My wife called a short time after the flyover and said, 'We have a mass killing,'" a hobby beekeeper Andrew Macke told AP. "'We have thousands and thousands of bees dead all around our pool deck and our driveway, just everywhere.'"
The US Environmental Protection Agency (EPA) recommends spraying between dusk and dawn, when bees are not typically foraging. In Dorchester, an airplane dispensed Naled mist, between 6:30 am and 8:30 am Sunday.
"Had I known, I would have been camping on the steps doing whatever I had to do screaming, 'No you can't do this,'" Stanley told Charleston's WCSC-TV.
At the same time, the county informed locals about spaying days beforehand, both on its website and Facebook as well as via numerous media outlets.
Officials have issued a statement Tuesday, saying they were "aware that some beekeepers in the area that was sprayed on Sunday lost their beehives." The County has opened a call center to receive information on losses related to mosquito spraying.