Conspiracy theorist Alex Jones claims he's been advising Donald Trump
Published time: 1 Sep, 2016 16:56
Edited time: 9 Aug, 2018 10:09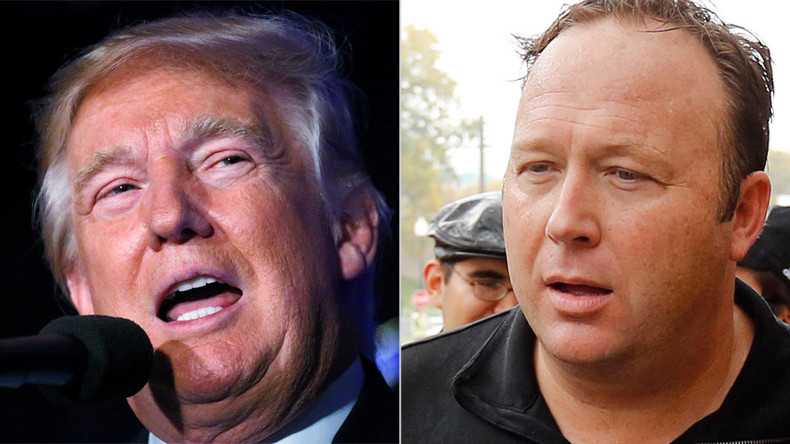 Right-wing conspiracy theorist Alex Jones says he has spoken to Donald Trump, advising him how to avoid his opponents stealing the election from him.
Speaking on The Alex Jones Show on Wednesday, Jones said he "personally talked to [Trump]" over a month ago and delivered a "special message… dealing with election fraud."
READ MORE: Trump outlines his foreign policy and military strategy
Jones said he "encouraged" Trump to make sure he raises the issue in the media how Hillary Clinton will be fraudulently elected.
The broadcaster says he told Trump how "Homeland Security was going to go in and probably bring in UN observers, to make sure illegals and people could vote, and change the debate away from election fraud, to retail voter fraud, which is individuals cheating rather than the computers being hacked."
Jones claims that Trump opponents will "start skewing the polls" and they will "put out the fake polls that you're way behind and actually create that perception."
Although the Donald Trump campaign has neither confirmed nor denied the claims, according to the 42-year-old, Trump accepted Jones's advice.
"He didn't so much do what I told him to do, he already concurred and absolutely was on the same page and was already right there with me or even ahead of me," Jones said.
Jones claims he spoke with the Republican presidential nominee two days before Trump said in a town hall event in Ohio that November's US presidential election "is going to be rigged."
WATCH MORE: