R&B star Chris Brown exits home, ending standoff with police at his LA residence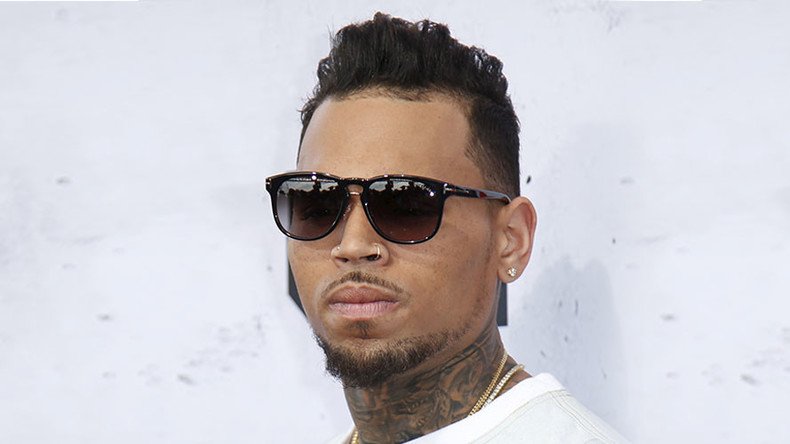 R&B singer Chris Brown exited his home after an hours-long standoff with the Los Angeles Police Department. Brown barricaded himself inside when officers arrived to investigate a 911 call during which a woman accused him of pulling a gun on her.
Brown has since been released on a $250,000 bail, according to Entertainment Tonight.
The singer appeared relaxed during the standoff, stretching out his arms and at one point even lying down in front of the entrance to his home. Brown then sat upright and spoke with uniformed officers and plain clothes investigators.
Brown had been communicating with his fans via his Instagram account, where he posted videos of himself making a statement from inside.
Using offensive language, he indicated that he will not let the LAPD in until they obtain a warrant.
Officers have been waiting for Brown's attorney, Mark Geragos, before they search the singer's place for the weapon that he reportedly aimed at the woman overnight, the Los Angeles Times reported.
A SWAT team has also reportedly dispatched to Brown's property.
The woman, whose name has not been released, called 911 at around 3am local time, saying that Brown pointed a gun at her during a violent rage. She said she managed to run outside his residence in the 5000 block of Corbin Avenue and make the call.
At the same time, TMZ portal has reported that police have managed to retrieve a gun and a bag of weapons as well as drugs. Although still barricaded inside, Brown himself reportedly threw the bag outside the window.
Brown was in the house with several of his friends, several media outlets reported. One of them, Ray J, was briefly detained as he left the property.
The woman was one of three "uninvited" guests in Brown's house who were forced to leave, , according to TMZ. After that one of the women made a call to 911 and reported Brown.
Police refused to immediately confirm whether or not Brown pointed a gun at the woman, saying that the investigation is still underway. A woman has reportedly been taken from the scene.
Media reports named Baylee Curran, a former 2016 Miss California and local actress, as the woman who accused Brown.
No identities have been officially confirmed yet.
Brown, not a stranger to arrests, previously made headlines after he viciously assaulted his then-girlfriend, singer Rihanna, in 2009.
Brown pleaded guilty to the felony and received a six-year probationary sentence that ended in March 2015.
In 2013, he was also arrested on a felony assault charge in Washington, DC, where Brown and his bodyguard got into a scuffle outside the W Hotel.
The singer was also in trouble in 2012, when he was busted for illegally possessing a firearm.
Brown's criminal record throughout the years has damaged his reputation and ability to tour abroad. His concerts were canceled in the UK in 2010, as well as in Canada, Australia and New Zealand in 2015, after he was denied entry to the countries. In December 2015, Brown's appearance on 'The Daily Show' was also canceled.
You can share this story on social media: