'Dumb decision': Cops pepper-sprayed 84-yo black woman (VIDEO)
Published time: 29 Aug, 2016 19:48
Edited time: 30 Aug, 2016 13:21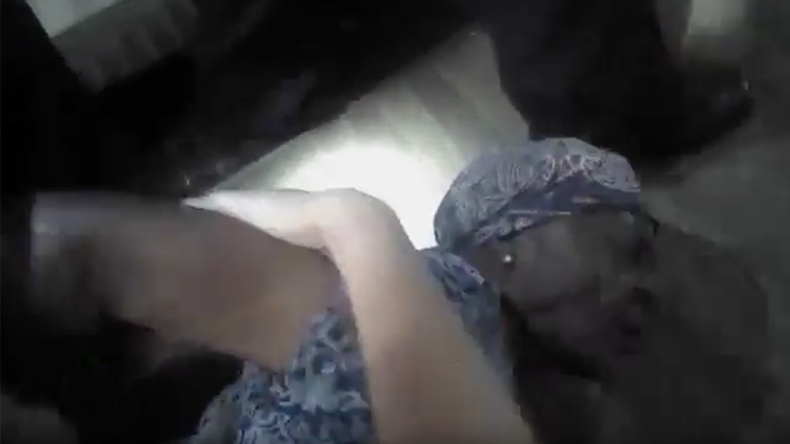 Police in Muskogee, Oklahoma are facing a backlash after releasing bodycam footage showing an officer pepper-spraying an elderly African-American woman inside her home.
The incident took place at 2:45am on August 7, when officers from the Muskogee police department chased an African-American man who ran a stop sign. Arthur Blackmon, 56, fled to his mother's house.
The video shows police kicking down the door of the house, hitting Blackmon with a Taser. A female officer can be heard ordering around Geneve Smith, 84, who is protesting the police presence. After about 40 seconds, the officer pepper-sprays Smith, who falls to the floor.
Police behavior was reasonable "given the totality of the circumstances," Scott Wood, attorney for the city, told the Muskogee Phoenix.
"It starts off as a traffic stop – that's a low misdemeanor – but based on the other evidence gathered in those three minutes... it could be a severe crime. It could have been a home invasion," Wood said.
Smith had failed to comply with officers' orders and actively resisted by turning away and facing her kitchen, Wood explained, citing Police Chief Rex Eskridge. The department's use-of-force guidelines say that pepper spray should be used for passive resistance.
When she used the pepper spray, Officer Michele Casady believed she had been acting within the department's guidelines, Eskridge told the newspaper on Friday. Both the use of force and the officers entering the house without a warrant are being investigated internally.
"There is a lot of missing information out there. There is a lot of prejudgment out there and a lot of concern," Eskridge told KOKI-TV.
Some Oklahomans are pointing out that police behavior shows a combination of prejudgment and a lack of concern – for Smith's well-being, that is.
"The fact that Ms. Smith's idiot son led police on a pursuit should be no excuse for a police officer pepper spraying an 84-year-old woman and hoping it doesn't kill her," William W. Savage III, chief editor of the news portal Nondoc, wrote Monday. "That's the sort of dumb decision that endangers lives, erodes community trust and leads people who are already suspicious of law enforcement to call cops 'pigs' or worse."
KOKI counted "about 40 seconds" in the video between Casady warning Smith and proceeding to pepper-spray her. Smith ended up in a hospital to get treatment for her eyes. She and her family are demanding an apology from the police.
Muskogee is a city of some 40,000 residents in eastern Oklahoma, about 48 miles southeast of Tulsa. It is perhaps best known for a 1969 Merle Haggard song, in which "Okie from Muskogee" is held up as an all-American contrast to the sandal-wearing hippies who burn draft cards.