Oklahoma police release video of man struggling for gun with officer, fatal shooting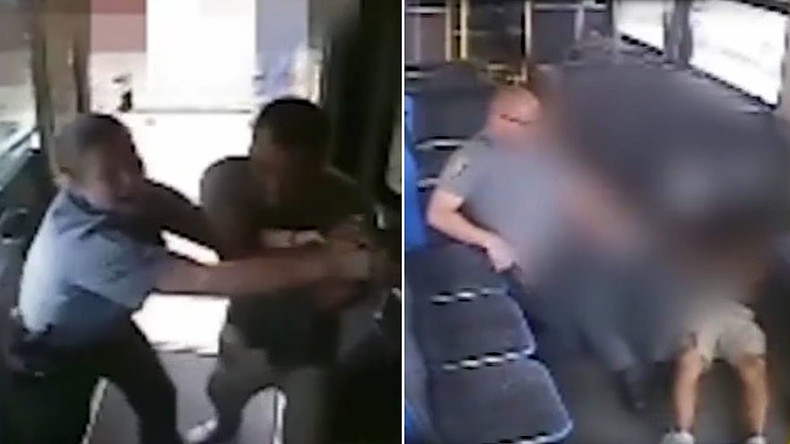 Oklahoma City police have made public a surveillance video made on a bus in which an officer shot dead a person suspected of vandalism. An evidently delusional man attempted to grab for a female police officer's gun and was killed by her partner.
The chain of events that led to the killing started shortly after noon on June 25, when the suspect, 42-year-old Miguel Chaves-Angles, visited the St. James Catholic Church, reported Oklahoma's News Channel 4 (KFOR).
The staff at St. James later told police that Chavez prayed there, apparently very upset about his upcoming divorce. He was banging his head on the floor, they said.
An officer then reportedly approached Chaves-Angles and talked him into visiting St. Anthony's Hospital for a medical checkup, which he left a couple of hours later.
Around 4:30pm Chaves-Angles called his wife, saying he was trying to find a ride home, police say.
Five minutes later he was seen bashing a car window with a piece of a rock. He then allegedly got into the car with two women inside and ordered them to drive off.
Witnesses reported the kidnapping and followed the hijacked vehicle, until at a certain point Chaves-Angles got out and ran into the O'Reilly Auto Parts shop and locked the door from inside. A manager reportedly demanded he leave, at which point Chaves-Angles ran to a nearby bus stop and got on a city bus.
Inside the public vehicle, Chaves-Angles first demanded bus driver get off, then offered him money for a ride, asking him "to do his job" and keep the bus door closed.
"I will give you whatever you want," Chaves-Angles said, acting in the most agitated and excited manner. Then he grabbed a fire extinguisher and pulled the pin out. The bus driver demanded the intruder leave the vehicle, but he refused. The driver stopped the bus and ordered all the passengers off.
Chaves-Angles did not prevent the people from leaving, but when Oklahoma City Police Officer, Heather Lane, entered the bus, gun in hand, Chavez grabbed her by the hand, trying to get the weapon. They wrestled for a short while until a shot went off. Allegedly, that's when Lane's partner, Officer Daniel Carli, reached them and killed Chaves-Angles on the spot with several shots.
Nobody else was injured in the incident. Police said the suspect acted aggressively towards the officers, who were placed on administrative leaving pending an investigation, NewsOn6 reported.