'It's not over': Bernie continues with 'Our Revolution'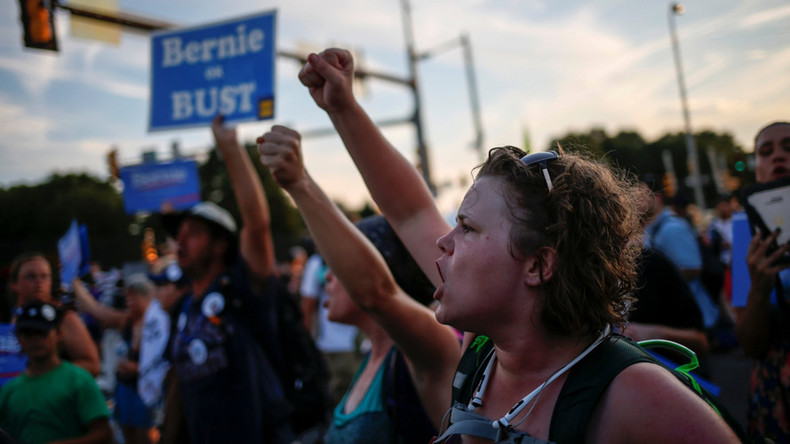 Senator Bernie Sanders is hoping to advance the movement that backed his presidential campaign by launching a new political organization, dubbed "Our Revolution," to fight money in politics and push for a progressive agenda.
The public unveiling on Wednesday night with a live broadcast into over 2,600 homes and meeting places will focus on a new movement to address economic inequality and take on special interests, and build upon the overwhelming support of his supporters for a progressive agenda.
Sanders, an Independent US senator for Vermont, told USA Today in an interview in July that the political institution of Our Revolution, the Sanders Institute, will elevate issues and ideas through media and documentaries paying attention to "the disappearing middle class, massive income inequality, horrific levels of poverty and problems affecting seniors and children."
In an address streamed online from Burlington, Vermont, Sanders clarified to supporters that he would not be personally directing or leading Our Revolution, but instead entrusting it to board members such as Jeff Weaver, who managed his presidential campaign.
"Election years come and go, but the struggle for justice continues," Sanders said, concluding his remarks. "Thank you very much."
One of the ways the organization is expected to carry on its agenda is to push for a 'Brand New Congress' in 2018 that "represents and reflects the American people, is not beholden to a handful of wealthy individuals, and is full of honest people with a track record of service."
To achieve its goal the movement will have to affect the outcomes of political races underway across the US, all the way down to most local elections.
Democrats are a favorite to win control of the Senate in November and have a fighting chance to regain control of the House of Representatives as well.
If Democrats regain control of the Senate, Sanders could take the plum nominations as chairman of the Senate Budget Committee or the Senate Committee on Health, Education, Labor and Pensions.
The issues he raised during his presidential campaign would then "take center stage in the corridors of Congress," according to an opinion piece in the Observer.
Sanders is said to be using his list of supporters to raise money for local lawmakers such as Chris Pearson, a state representative in Vermont. He is also supporting Florida's Tim Canova, a liberal Democrat who is trying to unseat Representative Debbie Wasserman Schultz, the former head of the DNC whom Sander accused of favoring Hillary Clinton's campaign during the primary.
Early reports however suggest a revolution of defections is taking place among campaign staff especially with the appointment of his former campaign manager, Jeff Weaver, to lead the new organization. Politico reported eight staffers resigned after the appointment of Weaver, and others have quit since.
At the heart of defections appears to be distrust of Weaver, his creation of a hostile work environment, and his mismanagement of campaign funds, and accusations that he wasted money on television advertising during the campaign.
"I left and others left because we were alarmed that Jeff would mismanage this organization as he mismanaged the campaign," Claire Sandberg, organizing director at Our Revolution before resigning, told the New York Times. She said Weaver would "betray its core purpose by accepting money from billionaires and not remaining grassroots funded and plowing the billionaire cash into TV instead of investing it in building a genuine movement."