Spat causes Monsanto to pull new GM cotton seed from India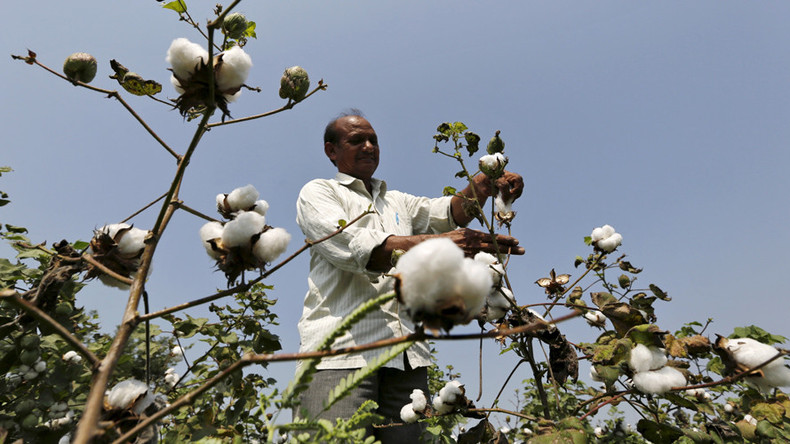 The global seed giant Monsanto is pulling its application to introduce a second generation genetically modified cotton seed after a row with the Indian government, which is demanding the company share its technology with local seed companies.
The decision which was revealed in a letter sent last month to its local partner in India, according to an exclusive report by Reuters.
Maharashtra Hybrid Seeds Co, Monsanto's technology partner in India, singled out a government proposal announced in May which have required Monsanto to share its proprietary technology.
The proposal was met by protest by Monsanto and other global seed companies with the Indian government withdrawing its proposal arguing it would seek comment from stakeholders.
After protests by Monsanto and other global seed companies, the government temporarily withdrew the order and decided to seek feedback from stakeholders. The Indian seed company told Reuters the proposal "alarmed us and raised serious concerns about the protection of intellectual property rights."
Monsanto's decision could delay the company's introduction of a new cotton seed, Bollgard II Roundup Ready Flex technology. The delay could lead to further losses for the company.
"Our decision to suspend this introduction in India is an outcome of the uncertainty in the business and regulatory environment, which include the regulation of trait fees and introduction of the draft compulsory licensing guidelines," Monsanto wrote in a released statement. "This decision has no impact on our current cotton portfolio being sold in India."
The new generation cotton seed is designed to help fight against weeds with the company claims strangle nutrients for the cotton seed and depress yields.
Monsanto's Bollgard I cotton seed, introduced into India in 2002, has become vulnerable to its target pest, the Bollworm, which has evolved with greater resistance to embedded insecticides in the seed, as has its Bollgard II which was introduced in 2006.
Monsanto is also in a fight with the Indian government over how much it can charge for its genetically modified cotton seeds, which it claims costs them tens of millions of dollars in lost revenue every year.
Reuters reported however that Monsanto sold more than 41 million GM cotton seed packets were sold last year, earning royalties of 6.5 billion Indian rupees ($97 million) for the company.
Unlike in the US, where Monsanto signs individual contracts with farmers, Monsanto has contracts locked in with 28 Indian seed companies who collect royalties on behalf of the company.
Monsanto has been selling genetically modified cotton seed to India since 1998. Since then the price of cotton seeds has increased by almost 80,000 percent, according to anti-GMO Indian activist Vandana Shiva.
Shiva said those price increases have led to the situation where "300,000 Indian farmers have committed suicide, trapped in a vicious cycle of debt and crop failures, [and] 84 percent of these suicides are attributed directly to Monsanto's [Bollgard] cotton."
There are conflicting reports of what is driving the suicides of Indian farmers. Monsanto argues the suicides are nothing to do with biotechnology but that the suicides began earlier then the introduction of Bt cotton in 2002. The Organic Consumers Association said its the high cost of GMO seed is driving many farmers into debt.
"It is incredibly expensive; it's 8,000 percent more expensive than normal cotton seed. But normal cotton seed is largely unavailable to Indian farmers because of Monsanto's control of the seed market," Alexis Baden-Mayer, political director of Organic Consumers Association told RTD in May 2015, adding India is now the fourth largest producer of genetically modified crops.
"Most countries have rejected GMOs, but India has accepted them for cotton only. And this has not worked out for the economy, and it has certainly not worked out for the farmers who are growing it," Alexis said. "Because they have deprived the farmers of the choice of which cotton to grow, they are forcing farmers who cannot irrigate to grow a crop that requires irrigation for success," she added.
Other factors are India's two-year drought. BT crops require irrigation something many smaller farmers don't have leading to crop failure which causes debt.
Other reasons are the market price for cotton which because of the bumper crops is driving prices down, leading to more potential debt for farmers.