'Save our water': Native Americans, celebrities protest Dakota pipeline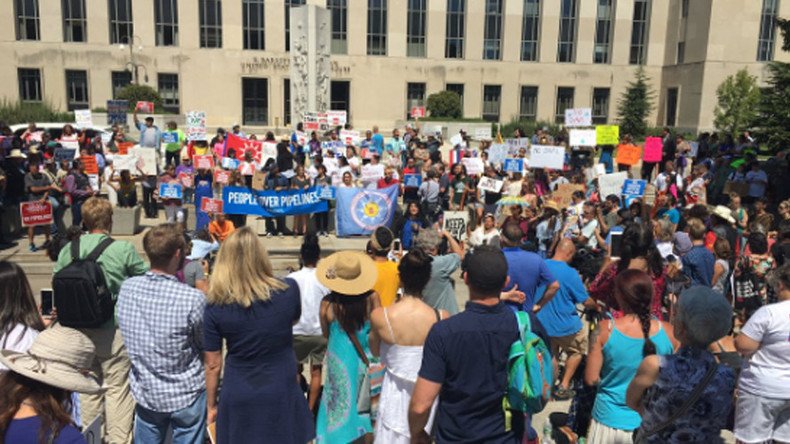 Members of the Standing Rock Sioux Nation opposing the construction of a pipeline through their sacred lands and water sources got a boost from celebrity activists at a protest in front of the US District Court in Washington, DC.
The $3.8 billion Dakota Access Pipeline would run from western North Dakota to Illinois, carrying hundreds of thousands of barrels of crude oil. It would also disturb sacred burial grounds and endanger water supplies at the Standing Rock Reservation and the neighboring communities, the tribe says.
Citing treaties with the US government, the Sioux have filed a federal lawsuit against the Army Corps of Engineers for failing to comply with environmental and historic preservation laws.
On Wednesday, Standing Rock Nation members were joined in front of the US District Court in Washington, DC by actresses Riley Keough, Susan Sarandon and Shailene Woodley, as well as Josh Fox, director of Gasland, the award-winning documentary about the consequences of fracking.
RT's Alexey Yaroshevsky first reported on the pipeline controversy in March. Now that prominent Hollywood activists have become involved, even the mainstream media have begun to pay attention, he says.
Redacted Tonight host Lee Camp has also spoken about the plight of the Standing Rock Sioux, and joined Wednesday's protest.
Cherokee Nation announced Tuesday that it was joining the Standing Rock Sioux in opposing the pipeline.
"The Standing Rock people have an inherent right to protect their homelands, their historic and sacred sites, their natural resources, their drinking water and their families from this potentially dangerous pipeline," said Cherokee Nation Chief Bill John Baker.
READ MORE: N Dakota pulls water tanks from pipeline protest site as judge urges compromise
A number of protesting Sioux Nation members, including tribal chairman David Archambault II, were arrested earlier this month after entering the construction area.
Dakota Access LLC has requested a restraining order against the protesters and said it would "press charges against anyone who interferes in the construction of the pipeline."
You can share this story on social media: