'We will press charges': Dakota Access pipeline protesters face restraining order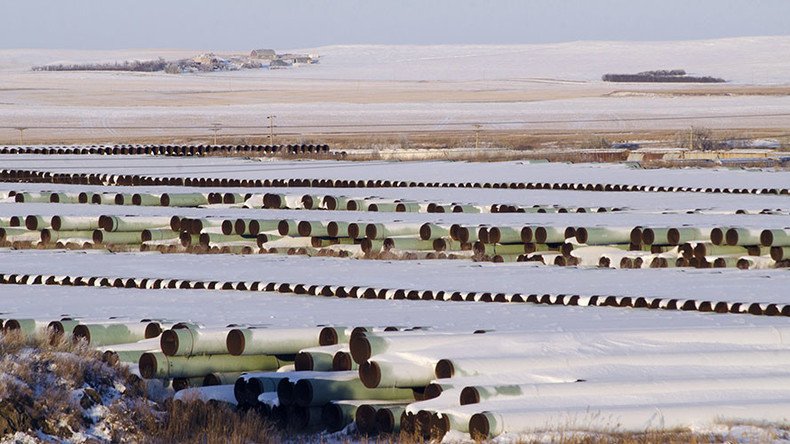 The Standing Rock Sioux Tribe has spent months protesting the Dakota Access pipeline, out of concerns for their tribe's drinking water. However, Dakota Access LLC is trying to get a restraining order against protesters, along with monetary compensation.
A dozen protesters were arrested last week when they came too close to the area slated to be used for the Dakota Access Pipeline, a project that, in terms of length, rivals the nixed Keystone XL pipeline. The company behind the pipeline, Dakota Access LLC, has decided to press charges against the protesters, claiming a need to guarantee the safety of their staff.
One of the arrested was a leader of the Standing Rock Sioux Nation, Tribal Chairman David Archambault II. He and the other protesters face a restraining order and potential monetary damages that Dakota Access LLC did not specify.
In court papers, Dakota Access LLC claim that protesters "have created and will continue to create a risk of bodily injury and harm to Dakota Access employees and contractors, as well as to law enforcement personnel and other individuals at the construction site."
This comes on the heels of a statement they made last week, saying, "we will press charges against anyone who interferes in the construction of the pipeline. Construction on the Dakota Access Pipeline will continue across all four states along the route."
The company claims that protesters had made threats and thrown bottles and rocks at the construction site. However, Archambault disagrees, saying he was "doing what everybody else was doing: demonstrating." He said there are no plans to stop acts of civil disobedience and called the pipeline "a black poisonous snake" that "is made from nothing but greed."
Archambault and the other protesters are facing disorderly conduct charges or criminal trespassing charges for entering the construction site that sits just out of the tribe's lands.
The fact that the pipeline is just outside of the tribe is important, because, according to an emergency injunction filed by the tribe, it would place "the burden of a potential spill squarely on the tribe."
In addition, the positioning of the pipeline could potentially contaminate the tribe's drinking water, along with millions who live downstream from it. The other environmental problems have to do with exactly what the Bakken pipelines transport.
Many of these pipelines not only transport sweet crude oil, but they also transport waste products as well – such as saltwater. This is not saltwater from the ocean, but a combination of contaminants, such as chloride and ammonia that can ruin the earth or water they touch.
Despite this and the months of protests from the Standing Rock Sioux Tribe, Dakota Access LLC plans to move forward, complaining that protesters caused the company "to lose goodwill among its customers" and diminished its "opportunity to complete construction of the pipeline's water crossing before its permits expire."
You can share this story on social media: