Arrests made as Native American tribes, landowners protest Keystone XL rival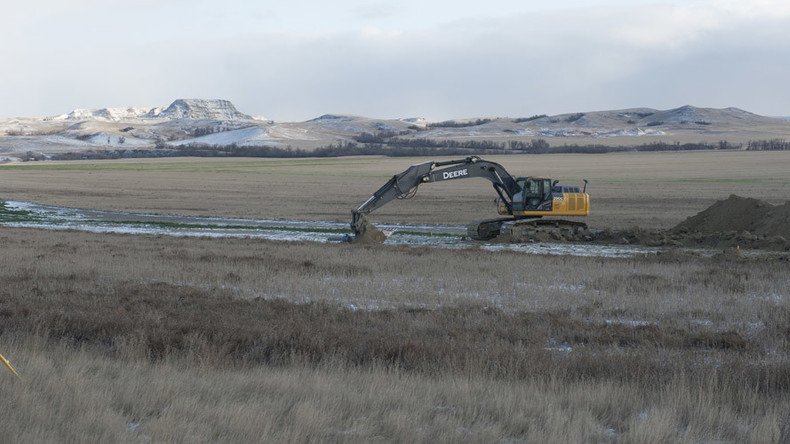 Construction on the controversial Bakken pipeline is set to begin any day now, forcing both landowners and Native American tribes in North Dakota to intensify their desperate attempt to protect their land from eminent domain laws.
Twelve people were arrested at a Sioux tribe's protest Thursday after they staged a peaceful protest to keep pipeline construction off of their lands. Members of the Standing Rock Sioux Reservation are concerned that the pipeline could potentially contaminate their drinking water and damage sacred lands.
The Bakken pipeline, also known as Dakotas Access Pipeline, rivals the Keystone Pipeline XL in terms of length and has been given the greenlight to begin construction in Iowa, North Dakota, South Dakota and Illinois and received federal approval in July.
In an effort to stave off construction, the Standing Rock Sioux tribe staged peaceful protests this week. LaDonna Brave Bull Allard, a tribal historian at Standing Rock, told AP: "Everybody is nonviolent and peaceful," adding, "We want to hold them back until we can get to court."
The peaceful protests have been doing on for months at a "spirit camp" where tribe members pray for hours at a time. However, one dozen people were arrested for encroaching on a zone established for workers' safety and they are likely to be charged with disorderly conduct or criminal trespassing.
Dakota Access LLC, the company behind the pipeline, wrote in a statement to ThinkProgress: "We are working with local law enforcement on this situation to ensure the safety of our employees and the safety of those who live and work in the area." They went on to add a particularly grim note, saying "We will press charges against anyone who interferes in the construction of the pipeline. Construction on the Dakota Access Pipeline will continue across all four states along the route."
Protests from tribes have been intensifying following the pipeline's official approval on August 3. Last week, the Standing Rock requested a preliminary injunction to halt the build as they appeal the permits given to developers. Their injunction claims that the US Army Corps of Engineers, "has taken actions in violation of multiple federal statutes that authorize the pipeline."
The injunction also claims that the Dakota Access Pipeline (DAPL) may have gotten ahead of itself, saying "DAPL has initiated construction even though the regulatory process remains incomplete, numerous lawsuits have been filed against it, and significant public controversy surrounds the project."
Lastly, the injunction also claims that the DAPL was configured so as to make the tribe responsible for any possible spills, saying "the original configuration of the pipeline took it just upstream of Bismarck, North Dakota," but it was, "later moved just outside their reservation, thus placing the burden of a potential spill squarely on the Tribe."
Despite concerns raised about the potential environmental hazards, the federal government approved the pipeline, citing that it did not pose a risk to any critical habitats.
Critical habitats are defined as specific areas that are necessary to the survival of endangered species. Therefore, the issue of destroying ancestral Native American lands did not qualify, nor the multiple watersheds it crosses, fertile farmlands, forests and rivers.
Tribes aren't the only ones opposing the pipeline. Nine landowners in Iowa asked a judge to halt construction Wednesday, citing a need for more time for their concerns to be heard. The landowners are risking losing their land to eminent domain laws that would allow the government to take their land in exchange for fair-market compensation, whether they like it or not.
Attorneys representing the landowners claim that the pipeline does not qualify as a utility, therefore is not subject to eminent domain laws.
Like the Standing Rock Sioux, these landowners are racing to beat the clock on construction. Richard Lamb, a landowner who leases his property to farmers, said he fears construction will begin before he even gets to court. He told ThinkProgress: "They are poised to actually start trenching probably anytime."
The motion from his attorney states: "Once that trench is dug, petitioners cannot be returned to the status quo quiet use and enjoyment of their properties."
You can share this story on social media: