Iraqi torture: US unable to restrain Shia militia forces committing kidnap, torture & beheadings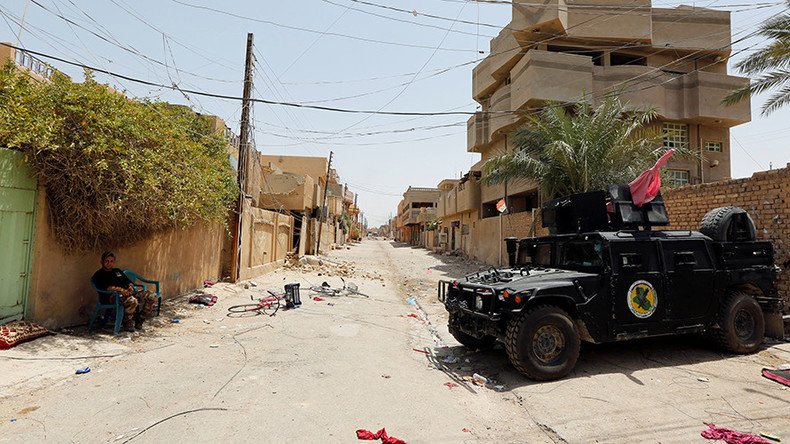 In a nightmare quagmire, Iraq's Shia militias are alleged to be responsible for kidnapping more than 700 Sunni men and boys since Fallujah was liberated from Islamic State, according to a report. Evidence suggests others were detained, tortured and abused by the militias.
The Shia militias are alleged to have killed at least 66 Sunni males, and abused at least 1,500 others fleeing Fallujah, as well as the disappearance of more than 700 others, according to Reuters after interviewing 20 survivors, reviewing an investigation by Iraqi authorities, a Human Rights Watch report, and video testimony.
"They said men were shot, beaten with rubber hoses and in several cases beheaded," reported Reuters.
The Shia militia fought alongside the US-trained Iraqi forces during a military operation to retake Fallujah from the Islamic State, which began on May 22 this year. Fallujah is a city some 40 miles west of Baghdad.
Shortly after the operation began, accounts of war crimes and civilian abuses committed by the Shia militias and federal police surfaced. An Iraqi government investigation into the allegations was kept under wraps.
The Shia militias, which number more than 30 different groups, receive Iraqi government salaries. Collectively, they are known as the Hashid Shaabi, or PMF, and officially answer to Iraq's Prime Minister Haider Al Abadi, who is also Shia.
The militias' power has increased, due in part to the more than $20 billion in military hardware the US has sold or given to Iraq since 2005. Among the hardware are armored personnel carriers, trucks, Humvees, artillery and even tanks, according to US officials and pictures and videos.
Reuters discovered the US tried to limit the role of militias when Fallujah was being retaken, and repeatedly told Iraqi officials they would suspend air support where the militias were operating outside the formal chain of command, but were ineffective.
US officials said that policy was to prevent American plans from mistakenly bombing Iraqi forces and to restrain militias from entering areas considered sensitive to Sunnis.
Just two days into the campaign, reports began emerging of Shia militias separating males from fleeing Sunni families.
"During the two weeks of fighting, there were credible allegations of summary executions, beatings of men in custody, enforced disappearances, and mutilation of corpses by government forces," said Human Rights Watch in a report last month.
A witness provided the agency with a photo he took on June 27 on the outskirts of Fallujah of a decapitated corpse with a rope around its left foot.
"He said he saw fighters of the PMF…posing for picture with the corpse moments before he took the photo," said HRW. "They were saying they were proud of killing a member of ISIS, thought the status of the dead man as a combatant or civilian and the cause of death could not be determined."
HRW said mutilation of corpses is a war crime, as is the killing of captured combatants or civilians.
The same witness said he saw PMF forces burning houses and shops while "shouting slogans of revenge, and some looting." Several people, including government officials, told HRW that on June 3 members of the federal police and PMF "executed more than a dozen civilians…fleeing Sajar, a village north of Fallujah."
A resident of Saqlawiyah said on the same date, "men in army fatigues claiming to be Iraqi military" came to the area and ordered the women, old men, and children to separate from the men.
"The men in fatigues loaded him and at least 600 others…into trucks and eventually took them to Camp Tariq, an army base south of Fallujah," stated HRW.
"He said for the next 24 hours, the approximately 90 guards brutally beat him and the other prisoners, including with sticks and cables, while yelling anti-Sunni slurs. He said three of the men died in front of him… local police forces freed the me," reported HRW.
The UN said on Tuesday a Shia militia may have kidnapped 900 civilians and executed at least 50, some by beheading and torture.
UN rights chief Zed Ra'ad al-Hussein identified one group, Kataeb Hezbollah, as perpetrating atrocities after telling citizens they were there to help.
"This appears to be the worst – but far from the first – such incident involving unofficial militias fighting alongside government forces," said al-Hussein, according to Middle East Eye.
Al-Hussein said 605 men and boys were taken to a refugee camp, but the whereabouts of a second group of 900 people was "unknown."
Women at the refugee camp at Amriyat al-Fallujah told AFP last month that "their sons, husbands and nephews were missing."
The militias are deeply integrated into the Iraqi government, Phillip Smyth, a researcher at the University of Maryland, who is a leading expert on Shia militias, told Business Insider.
"These groups are extremely powerful," Smyth said. "They have sometimes tens of thousands of members, they're actively deployed in multiple battlefronts. And beyond that they have very strong backers, particularly Iran."
Smyth said on top of that, the Iraqi Army is so depleted as a fighting force, they need the militias to take on IS.
"When you really look at it from a government point of view, they are not on the strong end of this," Smyth said. "They also have to deal with these forces because they're the ones taking the battle to the Islamic State."
The Obama administration's inability to restrain the sectarian violence from Iraqi government integrated militias comes at precarious time as the US is about to launch an offensive to retake Mosul, Islamic State's Iraqi capital, which they have occupied since June 2014.
Former US Ambassador to Iraq Ryan Crocker said the Obama administration has downplayed abuses by both militia and Iraqi forces.
"This administration is so determined to be able to declare victory over ISIL (that) they don't really care about any of the rest of it," said Croker, a career diplomat who served as US Ambassador to Iraq from 2007 to 2009.
You can share this story on social media: