'We only tip citizens': Virginia waitress gets hateful note, outraged grandpa & locals strike back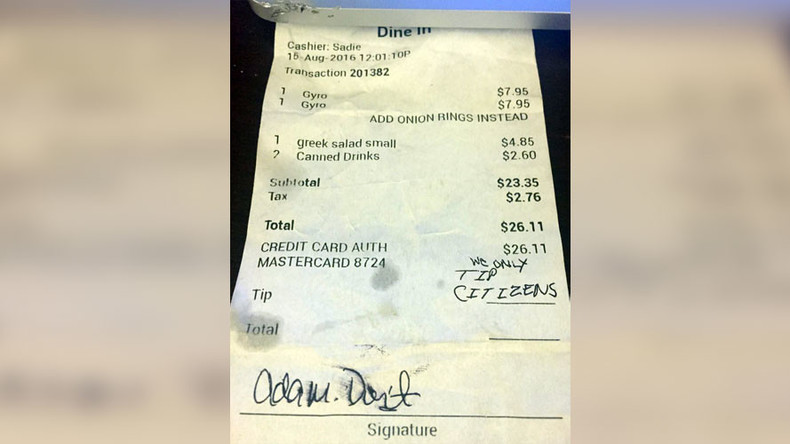 When a waitress at a Virginia diner picked up the receipt of customers she had just served, she probably expected to see a tip. Instead, she found a note informing her that the customers "only tip citizens" – even though she was born and raised in the US.
Monday started like any other day for 18-year-old Sadie Elledge, an employee at Jess' Quick Lunch in Harrisonburg, Virginia.
That routine day included serving a man and a woman two gyros, two sodas, and a small Greek salad.
But Elledge said the couple made her feel uncomfortable almost immediately.
"They wouldn't talk to me. They would just nod their heads," she told local ABC affiliate WHSV.
When it came time to pay, the couple did so with a Mastercard. As with many credit card payments, the receipt included a line where they could write in the amount they wished to leave as a tip.
READ MORE: Ohio church stuns pizza delivery woman with $1,000 tip
However, instead of leaving a few dollars on their $26.11 bill, they left a hateful message for Elledge, who is of Honduran and Mexican descent.
"We only tip citizens," the note reads.
Elledge – who is in fact a US citizen – was understandably taken aback, calling the comment "rude and disrespectful."
The incident was even more surprising to Elledge because she said the woman at the table had an accent herself.
However, Elledge's shock and disappointment was nothing compared to the outrage expressed by her grandfather on social media.
"I'd happily do the jail time if I could get just one solid punch in to the face of the son of a bitch who paid for his meal at the luncheonette where my granddaughter works and left the receipt for her with a note saying, 'Sorry, we only tip citizens,'" John Elledge, a lawyer, wrote on his Facebook page.
In another post that included a picture of the receipt, Elledge called out the person who signed it.
"Ada M. Doriot. You are a complete and total piece of dung," he wrote.
Elledge's posts quickly spread on social media, and it wasn't long before the lawyer was told that the couple had returned to the restaurant, angry and "belligerent." Wasting no time, Elledge went to the restaurant to approach them.
Although Elledge told the Washington Post that "we didn't talk much," he did say that the woman asked him why he had made the posts on social media.
"...I said obviously, it was an insult – your signature against my granddaughter – darn right I'm going to post it. And no apologies."
Jess' Quick Lunch – an immigrant owned and operated business – has also stood up for Elledge.
"Coward is the word to describe what they did. I have worse words to use," said owner Angeliki Floros. "But let's go with coward."
"I would like for them to not come here unless they regret what they did," she continued.
Meanwhile, the young waitress has vowed to serve the customers again if they ever come back to the restaurant.
"It makes me the stronger person to not let these things bother me because I know I'm a good person. I know that," the 18-year-old said.
And don't worry – Elledge received the tip she was owed and then some after friendly neighbors rallied together to support the young waitress.