'Wall of dirt': Watch dust storm roll over Phoenix, Arizona (VIDEO)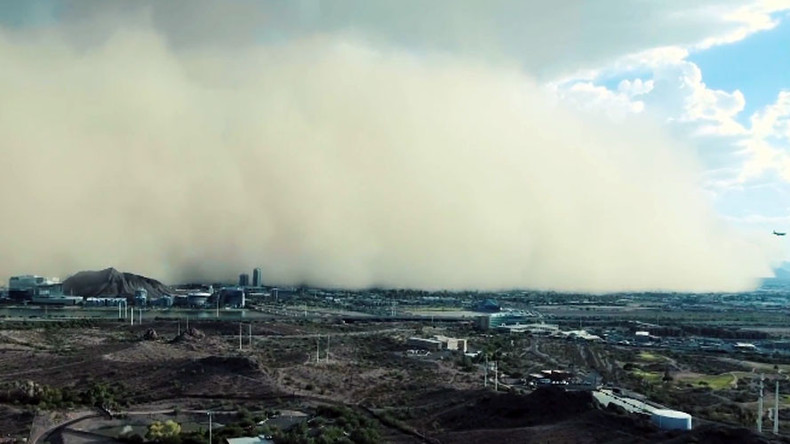 A dust storm swept through Arizona's largest city Sunday, delaying flights at Phoenix Sky Harbor airport and creating spectacular visuals. The phenomenon is also known by its Arabic name, "haboob."
Phoenix on Sunday evening resembled a scene from Mission Impossible: Ghost Protocol. While such sandstorms cannot actually happen in Dubai, as depicted in the movie, they are fairly common in the American Southwest.
Visibility at Sky Harbor International Airport was reduced to a quarter-mile or less, with winds gusting to 60 miles per hour, according to the National Weather Service. At least 16 flights were delayed, with the average delay running about 49 minutes, according to FlightAware.
"It was impressive. I've been watching it on the news, and it looks pretty imposing as you see it rolling through the Valley, and then you look outside and it's all hazy and orange with the sunset," Simon Norton, who was traveling through Sky Harbor, told KNXV-TV.
A haboob (Arabic for "blow") occurs when cold, gusting winds in a storm front reach the ground and pick up dust from the desert, creating a cloud of particles that precedes the storm. The wall of dust can be several miles tall, and more than 60 miles wide. True to form, the Sunday evening haboob was followed by a thunderstorm.
This is the second haboob to hit Phoenix this month.
Some Americans have objected to the use of the Arabic word, arguing that "sandstorm" and "dust storm" are good enough to describe the weather event.
Meteorologists have pointed out that professional use of "haboob" dates back to 1925, and that many weather terms – from tornado to tsunami – have been borrowed from other languages, such as Spanish and Japanese.
You can share this story on social media: