Florida resident contracts dangerous brain eating amoeba, the 4th US case this year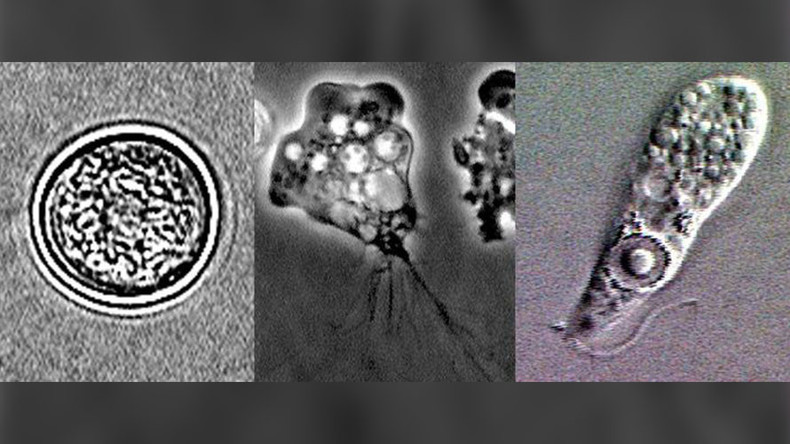 An unidentified patient in Florida is fighting for their life after contracting a microscopic brain-eating amoeba while swimming in "unsanitary water".
The Florida Department of Health has confirmed that the patient – the fourth known US case this year – is suffering from a severe illness. Stage one symptoms include fever and vomiting and, as the condition progresses, the patient suffers severe hallucinations and eventually falls into a coma.
According to the Sun Sentinel, this patient is from one of Florida's most populated areas, Broward County.
Spokesperson for the Florida Department of Health Mara Gambineri told the newspaper that doctors believe the patient "contracted the infection after swimming in unsanitary water on a single private property."
Often mistaken for meningitis, the disease is caused by Naegleria fowleri ameba attacking the brain.
According to the US Centers for Disease Control and Prevention, once the parasite reaches the brain the prognosis is bleak: since 1962, only three people out of 138 are recorded to have survived the infection.
Regarded as an extremely rare parasite, a person can only be infected if they are unlucky enough to breath in contaminated water through their nose. People suffering with the infection usually only survive for a maximum of 18 days.
The latest amoeba virus comes just two weeks after the death of Hannah Collins from South Carolina. The 11-year-old died from a similar infection on August 5, after contracting the debilitating illness whilst bathing in a local river.
READ MORE: 11-yo South Carolina girl dies from brain-eating amoeba
Guidelines issued by the South Carolina Department of Health at the time advised people to avoid swimming in warm freshwater lakes during times of high temperature and low water levels.
The department also warned people to refrain from "stirring up" river bed sediment that might contain the parasite.
You can share this story on social media: