Women are the fastest rising prison population – study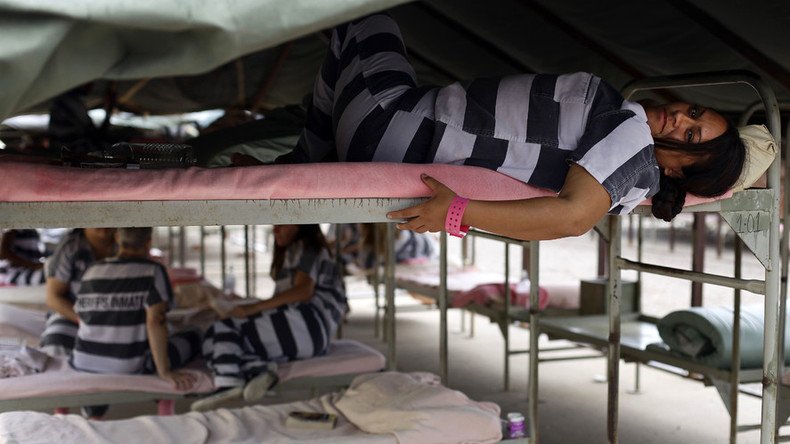 Female prisoners were once unheard of in most US counties, but in the last half-century, they have been filling cells with higher rate increases than their male counterparts, according to a new study.
Mandatory minimum sentencing and the drug war have contributed to the phenomenon of prison overpopulation, but even as the issue grows this presidential election year, the full scope of the impact on American life is still being uncovered.
In a study released Wednesday by the Vera Institute of Justice and the Safety and Justice Challenge initiative, the number of women in prison and jails in 2014 was reported to have multiplied nearly 14 times from 1970.
"Once a rarity, women are now held in jails in nearly every county — a stark contrast to 1970, when almost three-quarters of counties held not a single woman in jail," the report read, according to the New York Times.
Women made up only 11 percent of all arrests in 1960, but by 2014, that figure more than doubled to 26 percent, the recently-published report found.
While the imprisoned population has grown overall, with men still far outnumbering women behind bars, the rate increases are much higher for the fairer sex. In 1970, under 8,000 women were held in municipal and county jails for misdemeanors or pre-trial procedures, compared with 110,000 in 2014.
There is also a surge in activism aiming to reform the criminal justice system.
"Every state in the country now is going to be looking at more aggressive criminal justice reforms," predicts Holly Harris, executive director for the US Justice Action Network, as quoted by the Anti-Media from a conference in Washington, DC earlier this summer.
Harris doesn't see much of a choice for legislators whose states are facing financial woes. And her organization, a coalition umbrella of various groups on the political left and right, may find success on the federal level as well.
According to the US Justice Action Network's website, there is bipartisan appeal in the US Senate for the Sentencing Reform and Corrections Act of 2015. That legislation would allow more judicial input on sentences by reforming mandatory minimums for drug crimes, and it also addresses what Harris called a "cycle of failure," whereby those released from jails and prison frequently return due to an inability to find employment and educational opportunities. The bill, which applies retroactively as well, is expected to be voted upon by the Senate this year.
The female prison population skyrocketed 800 percent in last 30 years, and almost two-thirds of them were locked up over nonviolent offenses, according to a 2010 report from the Families Against Mandatory Minimums Foundation.
Fifty-six percent of incarcerated women were in for drug or property offenses, which usually carry a mandatory minimum sentence, the foundation found.
Additionally, the Families Against Mandatory Minimums reported that 60 percent of female prisoners had minor children, and that the number of children with imprisoned mothers had doubled from 1991 to 2010.
Furthermore, their statistics were broken down by race, with 380 out of 100,000 black women behind bars, 147 out of 100,000 Hispanic women, and 93 out of 100,000 whites.
While those numbers are based on data from 2010, the report released Wednesday by the Vera Institute shows a similar rate of increase and goes even deeper into exactly where much of the female prisoner population is rising quickest.
In 1970, the new report found, some 1,700 women were confined to jail cells in counties with fewer than 250,000 people. Forty-four years later, there were 51,600 women in those rural county hoosegows.
The report consistently found that less-populated areas incarcerated women at higher rates than more metropolitan ones. From 79 jailed women per 100,000 in the year 2000 to 140 per 100,000 in 2014, the rate nearly doubled. The largest counties actually decreased, from 76 per 100,000 to 71 per 100,000 during the same period.
The counties with the highest rate of women in prison were all rural and included Nevada County, California; Floyd County, Georgia; and St. Charles Parish, Louisiana, according to the New York Times.
For good measure, another telling statistic from the Bureau of Justice Statistics reveals that between 1980 and 2009, the rate of men arrested for drug possession doubled, while for women, it tripled.
You can share this story on social media: