Pot goes postal: 3 DC mail workers arrested for marijuana distribution scheme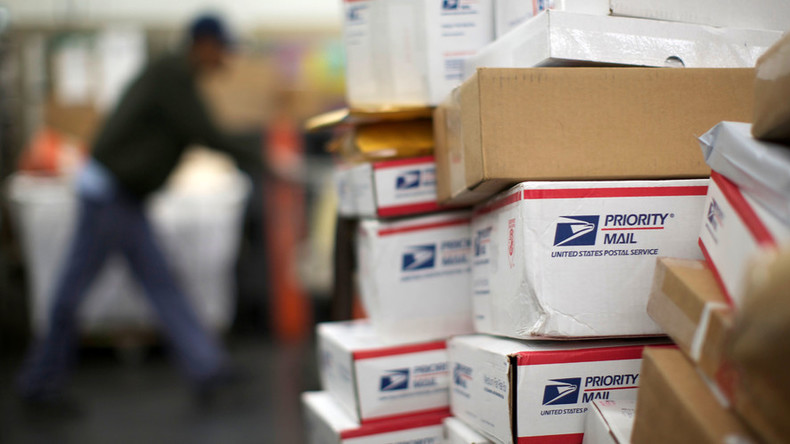 It's illegal to mail marijuana ‒ but some postal workers could use a reminder. The acting manager of two post offices in Washington, DC and two underlings have been arrested for accepting the money and using the mail service as a pot distribution center.
Deenvaughn Rowe, the acting manager of the Lamond Riggs and River Terrace post offices in Northeast DC, and letter carriers Kendra Brantley and Alicia Norman have been charged with bribery and distribution of a controlled substance, according to an indictment filed in federal court on Thursday.
Packages would arrive at the two post offices from California and Oregon, with Rowe monitoring the mail for their arrival. He would then tell the two letter carriers to deliver the pot-filled packages, which they would either fail to scan or scan with false information, to recipients on the street during their route in exchange for cash. Brantley and Norman would then give the cash to Rowe, the indictment said, according to the Washington Post.
Between December and May, Rowe is believed to have deposited $31,485 in bribes into his bank account, while more than 100 kilograms of marijuana were doled out, authorities said.
While possession of a small amount of marijuana is legal in the nation's capital, selling the drug is not.
Law enforcement began tracking the trio in March, when Brantley and Norman were first seen exchanging packages for cash with a person in a white Range Rover with California license plates, the indictment said. The exchanges continued over the next two months.
It's far from the first time that postal workers have doubled as pot porters.
In May, five United States Postal Service (USPS) carriers in Shaker Heights, Ohio were arrested and charged with a litany of felonies for a scheme to intercept packages of marijuana, WEWS reported.
The carriers ‒ Aaron L. Kelly, 28; Dartagnan B. Mitchell, 28; Tamika S. Embry, 32; Devon Blake, 25; and Rashon Blake, 25 ‒ told convicted drug dealer Kevin Collins if their work schedules and the addresses along their routes. He then arranged for packages of marijuana to be shipped to addresses on those routes at times he knew the specific workers would be on duty, authorities said in the indictment.
The two Blakes, Embry, Kelly and Mitchell wouldn't deliver the packages to the listed addresses, however. Nor did the properly scan the packages ‒ if they scanned them at all. Instead, they handed them directly to Collins in exchange for cash.
"These are folks who had jobs, decent jobs as mail carriers, and they threw it all away for $200, $300, $400 of cash," said Michael Tobin with the U.S. Attorney's Office.
"These mail carriers used their positions not to serve the public, but to be spokes in a drug-trafficking organization," Carole S. Rendon, Acting U.S. States Attorney for the Northern District of Ohio, said. "They violated the trust of the public and their employer, and now must answer to criminal charges."
Last August, three USPS employees from three separate post offices in the Tuscaloosa, Alabama area were arrested on drug trafficking charges.