Chicago police chief wants to fire 7 cops for McDonald shooting cover-up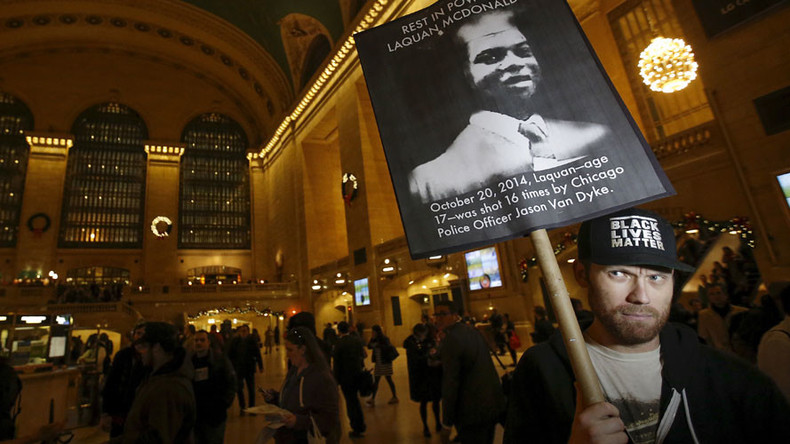 Chicago Police Superintendent Eddie Johnson has recommended firing seven officers accused of covering up the police shooting of Laquan McDonald in October 2014.
An initial investigation into the incident carried out by the city's inspector general also recommended that two other officers involved should be fired. According to a statement from Chicago Police Department (CPD), however, these two officers "have since retired."
Johnson was also advised by the inspector general that a 10th officer, a female, should also be sacked, but Johnson has decided against this.
READ MORE: Special prosecutor appointed in Laquan McDonald case

In a message to rank and file officers on Thursday, Johnson wrote that he's aware "this type of action can come with many questions and varying opinions," but added that "these decisions were not made lightly."
"As I have said before, with every decision that I make, I always keep in mind the tremendous sacrifice, bravery and commitment of every officer," he continued, according to the Chicago Sun Times.
The recommendation will now be sent to the Chicago Police Board for consideration as it is the board who decides the final punishment.
It's reported that Johnson will now turn his focus to the manner in which then-Supt Garry McCarthy and his executive staff dealt with the case and discrepancies between dash cam footage of the incident and the accounts given by the police officers involved.
Police initially said McDonald had lunged at officers with a knife, but this did not align with dash cam footage of the incident. The video showed McDonald walking away from police when officer Jason Van Dyke Dyke shot the 17-year-old 16 times in the space of about 30 seconds.
READ MORE: First in Chicago history: On-duty cop charged with murder ahead of video release
Here's the full statement from the Chicago Police Department (CPD):
"Upon the initial investigation into the officer-involved shooting incident of Laquan McDonald, the Independent Police Review Authority (IPRA) delegated its investigatory powers to the Office of the Inspector General (OIG). Recently, CPD received the OIG's reports on the case.
"The Department and its outside counsel have carefully reviewed the reports and supporting documents, videos, and other evidence and will accept the OIG's recommendation to submit seven of the officers to the Police Board for separation based upon Rule 14 allegations outlined in the OIG's report.
"The officers have been relieved of their police powers prior to the determination of the Police Board. Two of the officers cited in the report have since retired.
"With respect to the 10th officer, CPD respectfully disagrees with the OIG's recommendation for separation and feels that there is insufficient evidence to prove those respective allegations.
"Our formal response to the inspector general was sent this morning."